Paws for Effect Peer to Peer Fundraiser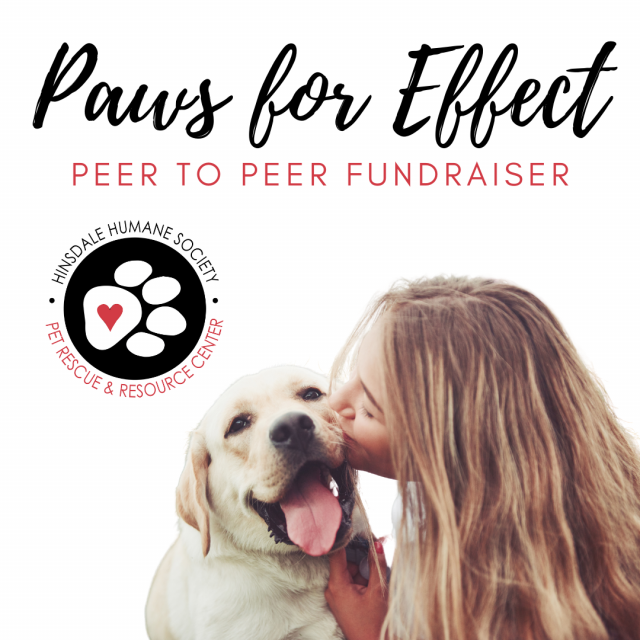 We think the best voice to advocate for our work is your pet! Who better than your dog, cat, guinea pig, bunny, or whatever species you call your best friend, to make a request from family, friends and associates to support our life saving/life changing work?

Please consider setting up a Paws for Effect fundraiser in the name of your pet. Peer to peer fundraising is so effective in helping non-profits like us, raise much needed funding to further our mission.

From May 1 through June 15, we encourage everyone to set up a Facebook Fundraiser —OR— an Email Donation Campaign (see instructions for both below) to make a difference in the lives of pets and people!
Fundraising Awards
Raise $500 or more and have your name featured front and center on our website homepage the week after Pet Walk Festival on June 25th
Be in the Top 10 highest fundraisers and you'll be listed in our July electronic newsletter.
Our Top 3 highest fundraisers will 1) receive honorary recognition on our website 2) appear on a poster 3) have their names announced at Pet Walk Festival on June 25th.
The Top Winning fundraising team will also lead our Pet Walk event on June 25th.
If you set up a fundraiser for us, please be sure to introduce us to your pet by sending a photo along with a short description of your pet to deborah.kraus@hinsdalehumanesociety.org.
Peer to peer and paw to paw, let's make this a win for all pets and for the people who know how special life can be when pets are involved in it!

Your gift (no matter the amount) helps us provide food, shelter and medical care for all the pets who call Hinsdale Humane Society their temporary home, and it enables us to deliver vital programming services to the community we serve.
Facebook Fundraiser Set-Up Instructions
Email Donation Campaign Instructions