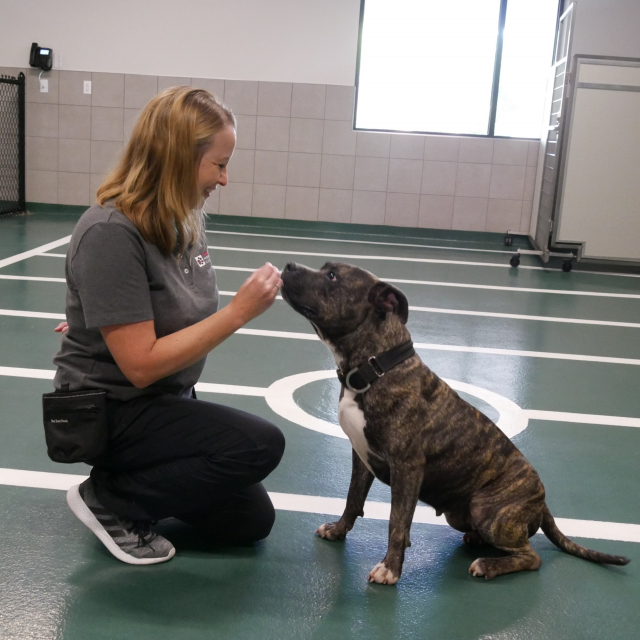 Our Training and Enrichment Program focuses on classes intended to foster a healthy, positive, human-animal bond, promoting humane animal treatment, responsible pet care, and positive reinforcement tactics for addressing behavioral issues. All classes take place at our facility located at 21 Salt Creek Lane, Hinsdale.
SPECIAL DISCOUNT: If you are an adopter or volunteer interested in group or 1:1 training classes, please contact training@hinsdalehumanesociety.org to redeem your discounted training class.
Our Trainers
Class Offerings
We offer various types of classes. Click through for class details and to schedule your class!
Not sure what class is right for you and your pet? Please contact Jamie Merlo, jamie.merlo@hinsdalehumanesociety.org.
Preparation for Class
Please be on time for class and be prepared with the following*:
A 6 - foot leash (leather, cotton or nylon)
A large amount of tiny, moist, chewy, high value treats. Boiled chicken, cold cuts, cheese, or hot dogs work well.
We prefer you do not feed your dog a large meal before class
Your dog (please take them for a walk & potty break before class)
Masks are optional
*At no point will any type of metal collar or retractable leashes be allowed for use in class.
Training Class Questionnaire
Prior to your first class, please complete the Training Class Questionnaire. You will find a link to the questionnaire in your registration confirmation email.
Cancellations / Location / Class Instructions
Refunds for group classes can only be offered if cancellation notice is given a minimum of 14 days prior to the first day of Week 1. Refunds for ongoing classes or private classes can only be offered if cancellation notice is given with a minimum of 48 hours notice. No refunds will be given for cancellations under 48 hours or no-shows.
Social distance training classes will be held at our Tuthill Family Pet Rescue & Resource Center, 21 Salt Creek Lane, Hinsdale. For safety reasons, children under the age of 5 may NOT attend. Children 5 to 18 years of age must be accompanied by an adult.