Does your job reward you with the unconditional love of animals? What about the joy of helping provide food, shelter, care and comfort to hundreds of pets waiting to find their second chance at life?
"I get to interact with animals every day. And, I make sure to let them know that someone cares about them. "
Patti Powell,


Kennel Technician
If you have a great love of animals and a concern for their well being, you'll find yourself right at home at the Hinsdale Humane Society. At HHS, we are united in our mission, cause, and passion for animals. And, we welcome you to join us!
At Hinsdale Humane Society we offer a friendly, professional environment, medical benefits, holiday pay, paid time off and 401K plans to full time employees. HHS is an equal opportunity employer. Pre-employment background and drug screening are required.
Internships
HHS Internship for College Undergraduates
The Jordan Crist Memorial Externship for Veterinary Students
Open Positions
To apply, please complete our survey AND direct resumes, cover letters, and any questions to Jessica Hiltner, Shelter Director, jessica.hiltner@hinsdalehumanesociety.org.
Finance Manager
Reports to: Shelter Director
Part-Time: 25-30 hours per week; Flexibility to work from home
Essential Duties/Responsibilities:
Manage the financial health of HHS by overseeing the accounting duties for the humane society. Ensure all debits and credits are input timely and accurately to HHS accounting system, reconcile bank accounts and act as primary liaison with outside accounts.
Maintain professional demeanor and excellence of communication, both verbal and written.
Position Primary Responsibilities
Collect all donations/payments made to HHS (cash, check, and electronic) and ensure they are captured accurately in HHS accounting software.
Deposit cash and checks into HHS bank account
Act as primary point of contact with outside consultant
Reconcile HHS records to bank statements
Act as primary point of contact with outside auditor
Assist SD with daily duties as requested
Pay bills and record payments in HHS accounting software
Assist SD with annual budget
Assist with data entry to donor database if/when required
Other projects as assigned by the SD
Send resume and cover letter to jessica.hiltner@hinsdalehumanesociety.org
Part-Time Veterinarian
The Hinsdale Humane Society is seeking a part-time veterinarian to join our growing medical team. HHS is a progressive, community-conscious animal shelter focused on improving animal welfare for pets in shelters as well as keeping animals healthy and happy in homes with their owners.
The veterinarian will be responsible for providing wellness and routine veterinary care for clients of our Irving and Phyllis Millstein Foundation Clinic. Additional duties may also include providing high volume spay and neuter surgery for our shelter and rescue group partners.
This position is ideal for someone looking for a part-time opportunity to practice veterinary medicine or a veterinarian looking to supplement their current work with a low-stress, high-reward opportunity to provide general wellness care for a large number of pets and their owners.
The applicant must hold a doctorate of veterinary medicine from an accredited school of veterinary medicine and must be licensed to practice veterinary medicine in the state of Illinois. A commitment to the mission of population management, spay/neuter, and understanding of the importance of affordable, basic veterinary care is a must. Weekend and evening hours will be required of this position.
Come visit our facility and meet our team!
Resumes, cover letters, and any questions can be directed to Jessica Hiltner, Shelter Director, jessica.hiltner@hinsdalehumanesociety.org.
Veterinary Assistant
Hinsdale Humane Society is seeking a part time Veterinary Assistant to join our veterinary team in our on-site clinic.
The candidate should be a highly-motivated, enthusiastic, self-starter with a professional attitude. The candidate would be responsible for assisting our veterinarian with patient and client care during our wellness and vaccination clinics as part of our Irving and Phyllis Millstein Clinic program.
Required Skills:
Must have reliable transportation to and from work
Must be able to lift 50 pounds consistently
Must be at least 18 years of age
Ability to work in a fast-paced environment
Must have effective communication skills
Must be able to sit or stand for eight or more hours a day
Must know veterinary medical concepts including but not limited to vaccine protocols, surgical prep and anesthetic monitoring
Must have confidence and skill to safely handle dogs and cats with a variety of temperaments and sizes
Weekend or evening work required
This position reports to the Medical Director. This part time position is 20 hours per week with a starting pay rate that will match experience level.
Job Type: Part-time
Pay: $12.00 - $15.00 per hour
Resumes, cover letters, and any questions can be directed to Jessica Hiltner, Shelter Director, jessica.hiltner@hinsdalehumanesociety.org.
COVID-19 considerations
We are operating with curbside protocols to keep our staff and clients safe during the fight against COVID-19.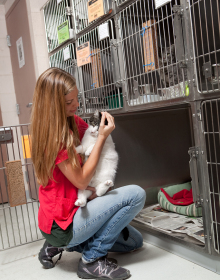 Hinsdale Humane Society
Attn: Human Resources
21 Salt Creek Lane
Hinsdale, IL. 60521
Phone: 630-323-5630
Email: Operations@hinsdalehumanesociety.org