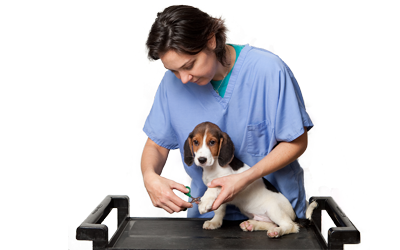 Does your job reward you with the unconditional love of animals? What about the joy of helping provide food, shelter, care and comfort to hundreds of pets waiting to find their second chance at life?
"I get to interact with animals every day. And, I make sure to let them know that someone cares about them. "
Patti Powell,


Kennel Technician
If you have a great love of animals and a concern for their well being, you'll find yourself right at home at the Hinsdale Humane Society. At HHS, we are united in our mission, cause, and passion for animals. And, we welcome you to join us!
At Hinsdale Humane Society we offer a friendly, professional environment, medical benefits, holiday pay, paid time off and 401K plans to full time employees. HHS is an equal opportunity employer. Pre-employment background and drug screening are required.
Internships
HHS Internship for College Undergraduates
The Jordan Crist Memorial Externship for Veterinary Students
Open Positions
Executive Director
With the departure of our current Executive Director, the HHS Board of Directors is focused on a search for the new individual who will fill this role. The board has engaged DeVine Consulting to conduct the search on the shelter's behalf. The firm specializes in assisting nonprofit organizations by providing guidance to senior leadership and their boards. For additional information and application guidelines, click here.
Animal Care / Adoption Counselor
We are seeking a dependable, energetic, dedicated, and hard-working individual to join our staff as an Animal Care/Adoption Counselor. Strong work ethics, love of animals, and excellent interpersonal skills are essential. Career motivated applicants only, please. Full time - includes weekends and some holidays. Experience preferred, but not required. Salary dependent upon experience; includes benefits. To obtain an Employment Application email info@hinsdalehumanesociety.org or apply in person at Hinsdale Humane Society, 22 N. Elm Street, Hinsdale, IL.
Humane Education Coordinator
The Humane Education Coordinator is responsible for creation and presentation of programs and information reaching people of all ages concerning the welfare of animals consistent with the mission, philosophy and values of Hinsdale Humane Society. The Humane Education Coordinator should be an exemplary educator with the ability to successfully represent the organization to a variety of audiences throughout the community. This position requires a combination of teaching and administrative duties including: managing the day-to-day program needs, curriculum development and coordination of programs, summer camp and supervision of program volunteers and flexible hours to accommodate the wide range of scheduling needs of programming. For more details, click here.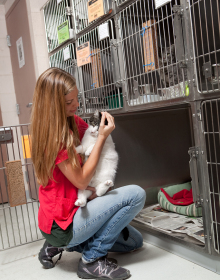 Hinsdale Humane Society
Attn: Human Resources
22 North Elm Street
Hinsdale, IL. 60521
Phone: 630-323-5630
Fax: 630-318-7930