Responsible Sheltering Policy
What is commonly referred to as a "No Kill Policy," is a term we prefer to call a Responsible Sheltering Policy. Since there is no reputable animal welfare organization that would ever choose to "kill" an animal, we believe Responsible Sheltering is a better way to describe the topic of humane euthanasia.
Shelters and rescue groups exist because they want to help animals, prevent harm and suffering. Since human nature interprets harm and suffering in different ways, we follow nationally established ASILOMAR guidelines to help eliminate the gray areas inherent in making life and death decisions. We also adhere to the ASPCA's 5 Freedoms listed here and below in graphic form.
There is no nationally followed or accepted standard for Responsible Sheltering. What has become widely accepted within the animal welfare community, is a live release rate of 90% or more, or a euthanasia rate of 10% or less. Hinsdale Humane Society's current percentage of less than 7% euthanasia meets the "standard" definition of "No Kill" or Responsible Sheltering, in which animals are not euthanized if they are healthy or treatable, even when the shelter is full. Euthanasia is reserved for terminally ill animals or those determined to be dangerous to public safety.
Our animals are evaluated to determine adoptability based on their health, behavior and temperament using standardized tests. For difficult behavior cases such a fear aggression, aggression/high reactivity to other animals, excessive anxiety, or animals that are not adapting well to the stresses of a shelter environment, we consult and partner with other rescue groups that provide positive behavior modification training in foster homes to work toward changing difficult behaviors. If a pet's behavior is determined to be "unhealthy" and "untreatable" after a series of modification and transfer efforts, that pet will be humanely euthanized in order to maintain public safety.
We do not euthanize animals for reasons of space and there are no time limits for animals at the Pet Rescue & Resource Center operated by Hinsdale Humane Society. We are a limited intake facility and incoming animals are scheduled by appointment. If space is not available at our shelter, we will delay intake of animals until space becomes available.
We routinely provide medical care for animals who are brought in with an illness or injury. We provide surgeries and treatment for most conditions and rely on the skills of our partner veterinarians to determine the health and appropriate medical treatment for animals.
We believe it is critical to maintain public safety by providing only healthy, behaviorally sound animals to the individuals and families who adopt from our facility. We also believe in transparency, an open dialogue, and sharing of our statistics. National shelter data is available here. Our own personal data is here: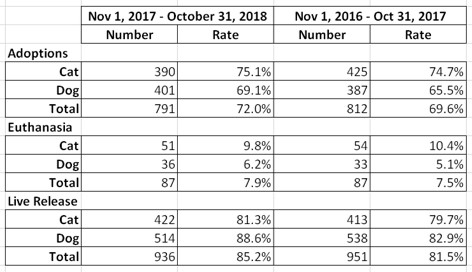 ASPCA Five Freedoms