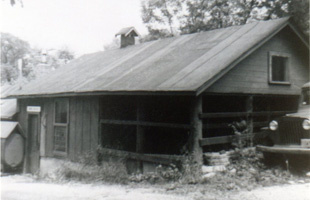 Inhumane Conditions Prompt Founding of Hinsdale Humane Society
In 1953, six Hinsdale women were appalled at the condition of the local dog pound. The unheated "shack" had no hot water and one light dangling from the ceiling. The local newspaper reported "A committee, armed with pick axes and disinfectants, has cheerfully braved soaring temperatures and disconcerting filth in order to improve the condition of the existing municipal building pound, on the theory that nobody would want a pet impounded for 'even an hour' in the enclosure as it stood at the time." A rabies outbreak was on everyone's mind that summer of 1953.
Early Goals
The women began the Hinsdale Humane Society as a not-for-profit organization and established three initial goals. The first was to educate the public in the proper training and handling of animals. The second was to arrange for humane disposal of unclaimed and unwanted animals. The third was to provide a safe and sanitary pound which would eventually replace the unsatisfactory facilities.
Volunteer Commitment as Strong as Today
Jim Healy, son of Virginia Healy, remembers those early days. "I was a junior in high school and I'd come to the shelter every day at 5:00 p.m. What was important was taking care of the animals." The beginning years were difficult. The shelter was plagued by lack of room and lack of funds. The ladies paid for most of the supplies themselves. Jim remembers his mother using her own 1951 Cadillac Deville to pick up strays. Because there was no phone, the ladies answered calls from their home telephones. The dedication of the volunteers was paramount to the success of the organization in our early history.
Our First Building
In many ways, the core values of the organization have remained unchanged today. However, a big change was becoming a reality. "A dog's life will be a better one in Hinsdale after this fall," read the lead article in the July 1958 Hinsdale Doings. The Village Board had just given the green light to the Hinsdale Humane Society's plan for a new "dog pound." The building on its present site was dedicated on September 17, 1959 at a cost of $25,000. The new shelter had 11 kennels, a small room for dogs and cats, and a reception area. It was the first Humane Society in DuPage county.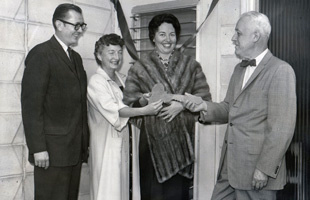 Robert Foss, WBBM commentator watches as Mrs. Richard (Pony) Chambers, one of the original founders and Mrs. Donald Elting present the key to the shelter to William Etz, Village of Hinsdale President on September 19, 1959
Our First Education Efforts
As part of Humane Education, "The Perils of Pal" brochure was developed in 1956. Pony Chambers, one of the original founders, was believed to be the commercial artist. The brochure was in such demand that the ladies copyrighted the contents and shared it with other humane groups.
Morris the Cat Adoption
Previously named Lucky, the homeless cat who would later go on to worldwide fame as the spokescat for 9Lives cat food, Morris the cat was adopted from Hinsdale Humane Society in 1968. The staff noticed the cat's charming personality and contacted Bob Martwick, a professional animal trainer who worked for Leo Burnett ad agency. After going to a casting call and charming everyone there, Morris went on to complete 58 commercials between 1969 and 1978. Upon his death in July of 1978, his obituary appeared in newspapers all over the world. Subsequent "Morris" spokescats were all rescued from shelters.
Pet Therapy Begins
Wanting to reach out into the community and help others, Hinsdale Humane Society began its Pet Therapy program. Our work began with Pet-a-Pet which took therapy dogs into nursing homes in 1982, and in 2005 we added the READ (Reading Education Assistance Dogs) program. In 2010 therapy dogs began working with children with special needs at Adventist Paulson Pediatric Rehabilitation Center. And in 2013 HHS started a relationship with Behavioral Evaluation Unit at Adventist Hinsdale Hospital. Our goal is to work with patients who suffer from anxiety and depression.
Continuing Growth
From those humble beginnings, HHS has gone through expansive growth. The building doubled in size in 1974. Remodeling and expansion occurred again in 1983 and once again in 1994, thanks to a bequest from the estate of Charles Hillinger. Today operations are in a different location, nearly 3 times the size of the original. That building is called the Tuthill Family Pet Rescue and Resource Center operated by Hinsdale Humane Society. The vision of this cutting edge facility is to provide the community with innovative animal care and resources.
2013: Continuing Our Mission
As we celebrate 60 years and reflect on the past, we also look forward to the future and the millions of lives we'll continue to touch – both two and four-legged ones. In 2012 we adopted more than 800 animals out to loving families, and our programs continue to grow in the schools, hospitals and more. We're honored to serve this community, and blessed to have the amazing group of more than 300 volunteers who keep HHS thriving.
2023: 70 Years of Saving Lives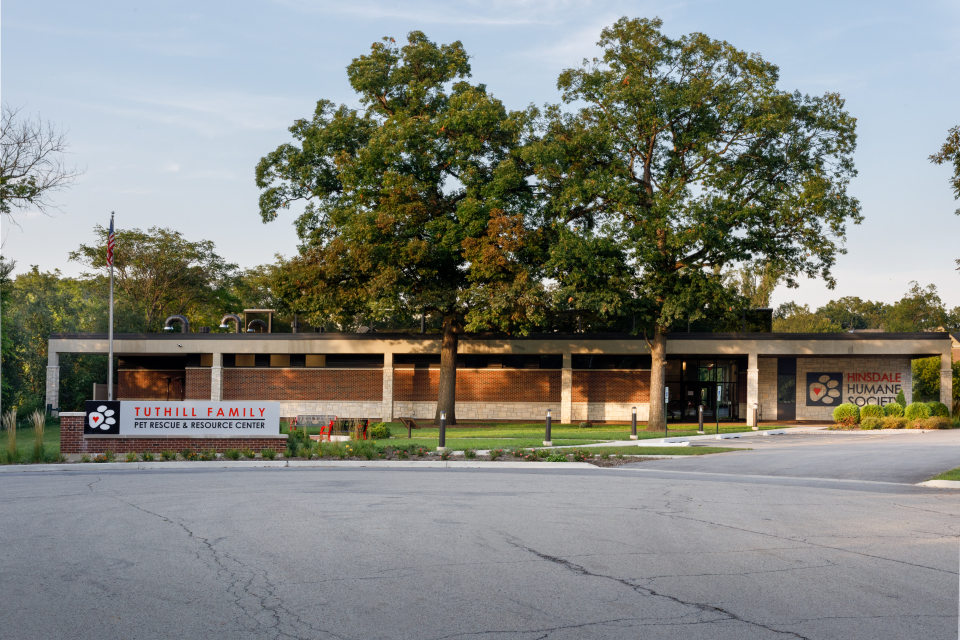 Another decade behind us and a bright future ahead, we are so grateful to the friends, donors, businesses and adopters who stepped up to help us financially as we navigated a move to a new building in 2018, changes in leadership, a pandemic and an animal welfare crisis of epic proportions.
In the midst of it all there were moments of sadness, healing, pure joy and a determination to keep fighting, adapting and persevering over every challenge that has come our way.
Like the six women who started this organization 70 years ago, we're here continuing the fight to advocate, educate and adopt out pets. We're here for the pets who need us to be their voice and protectors. We're here for the communities we serve, the students, seniors, patients and healthcare workers who receive Pet Therapy from us, the youth who learn in our Humane Education programs, the pet families bonding in our Training classes and the friends and neighbors receiving help from the Community Resources we provide to help keep pets in their loving homes.
The move to a larger facility has allowed us to adopt out more than 1800 pets annually, which is double the number from our previous shelter.
With an exciting year of celebrations ahead to honor our 70 year milestone, we are thrilled to be able to reconnect in person with everyone who has helped us get here, as we usher in a new decade of hope, healing and love. We can't do what we do without you and we look forward to building a bridge to the future together with all of you so we can be here for the next 70 years and beyond. Cheers!