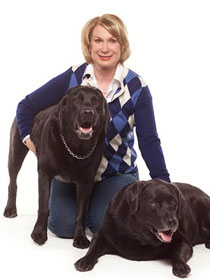 Make a Connection with Pet Therapy
In 1982, Hinsdale Humane Society began caring for humans in addition to pets with the introduction of our pet therapy programs. Our first program, Pet-a- Pet, sends trained owners and their approved pets to nursing homes, retirement and assisted living facilities, and adult day care. In 2006, we added the READ program. READ teams are trained owners and their Delta/Pet Partner-registered animals who visit libraries, schools, and other learning venues to work with children on reading skills. And in 2011, we introduced CARe (Canine Assisted Rehabilitation). In this program, trained owners and their Delta/Pet Partner-registered pets visit the Paulson Pediatric Rehabilitation Center of Adventist Hinsdale Hospital to help children with physical rehabilitation. By 2013, our CARe program expanded to inpatient visits at two campuses of AMITA Healthcare: Adventist Hinsdale Hospital and Adventist La Grange Memorial Hospital. (Therapy pets are restricted to canines only for making inpatient visits).
Benefits of Pet Therapy
Animals are a medication without side effects. Pet Therapy can provide benefits in the areas of:
Mental Health – Animals provide acceptance without qualification. They offer nurturing, entertainment, socialization, mental stimulation, and for some feelings of spiritual fulfillment. They can increase self-esteem and empathy and open channels of emotionally safe communication.
Physical Health – Animals can be used to increase an individual's fine motor skills, wheelchair skills, and balance. They can also stimulate relaxation, leading to decreased heart rate and blood pressure.
Education – Animals don't judge, creating a non-threatening learning environment. Also, being with an animal can be a great motivator to achieving learning goals.
Contact Us
Susan D'Alexander
Pet Therapy Program Coordinator
susan.dalexander@hinsdalehumanesociety.org