Some stories from those who benefit from our Pet Therapy visits.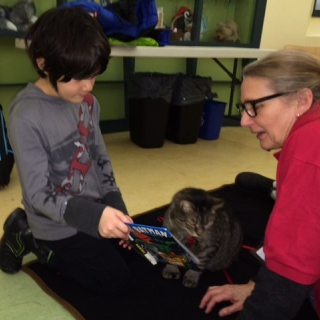 Brookfield Public Library
January 27, 2015
R.E.A.D. team Nancy Karpen and Bob are pictured working at the Brookfield Public Library in a special READ to the Cat session. Bob is one of our fabulous, and rare, R.E.A.D.ing cats!
From Louise Dimick, Head of Youth Services at the library, "READ to the Cat was a great success! All three participants enjoyed themselves and it sounds like it was a great experience overall. Thank you again very much for bringing this program to Brookfield for our members."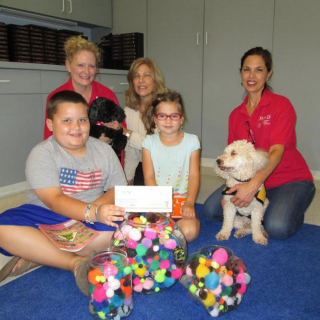 Thomas Ford Memorial Library
Thomas Ford Memorial Library member Jack Hull, 8, holds a check the library donated to the Hinsdale Humane Society's R.E.A.D. therapy dogs program Tuesday, Sept. 9, 2014. Youth participants in the library's Summer Reading Club collected pom-poms for reading 12 or more hours this summer, earning the Humane Society a generous donation.
Lexington Healthcare, LaGrange
February 24, 2014
I just wanted to take a moment this morning to thank you and your ladies for coming to visit our facility. Every month when the dogs come here, the patients and residents really enjoy it. A lot of the patients here are younger and have animals at home that they miss. It brings such joy to them and to me, the services that you provide. A gentleman here currently lost his dog while in our facility. He told me that seeing Beau this past Tuesday made him feel so much better about the fact that he was unable to be with his dog during his final moments on this earth. I just wanted to make sure that you and your volunteers knew that you are making such a wonderful difference in people's lives.

Thank you again SO SO much for your time and effort.
Jennifer
Lexinton Healthcare
LaGrange, IL
Hinsdale Public Library
January 13, 2014
We had 136 students stop by to cuddle with the dogs over this past weekend during our Teen Exam Stress Relief program. Please thank everyone who brought their dog to the library — and give the dogs an extra treat! What a wonderful addition to our Finals Service for the Hinsdale Central High School teens.

Thanks again!
Jo Ann Schusterich
Hinsdale Public Library
Downers Grove Library
January 14, 2013
I just wanted to send you a quick email to say thank you for the fantastic service you provided the teens of Downers Grove over this past weekend. I was not here for the Saturday session, but I was here all day from 1-5 on Sunday and had such an amazing time watching the dogs & trainers interact with the students who were here to study for final exams. Sláinte, Marley, Leila Mae, and Tessa were all such beautiful, well-behaved, good natured dogs, and their trainers were just absolutely amazing. We had a completely full house here at DGPL on Sunday… every table and chair in the meeting room, on the first floor and on the second floor, plus all of the study rooms, was taken. The trainers very patiently walked the dogs up to each student studying, often asking "Would you like a puppy pet" or "Would you like to see a trick". The students for the most part (we had a few with allergies who politely declined to pet the dogs) reacted so positively… they were petting the dogs, holding them, taking pictures with their phones. During such a stressful time (Sunday was the day before final exams officially began), I think having the dogs there was such a nice release for the students. It really created a wonderful atmosphere. Thank you both for helping coordinate this with me, and please pass along compliments to all of the trainers because they really made it such a wonderful experience for the students.
Thank you so much and have a wonderful day,
~Lynette
Teen Services Coordinator
Adult and Teen Services Department
Clarendon Hills Public Library
August 5, 2013

We would like to thank you again for offering such a great program with the READ
Program. We would also like to thank the handlers and dogs for taking time out of their
busy schedules to come and read to our young patrons. It is such a popular program here
at our library and we appreciate the opportunity to work with you. Please accept this
donation to the Hinsdale Humane Society as a way to show our appreciation.
Happy 60th Birthday to such a great organization!
Thank you for making our library a fun place to visit!
Sincerely,
Krista Devlin
Youth Service's Librarian