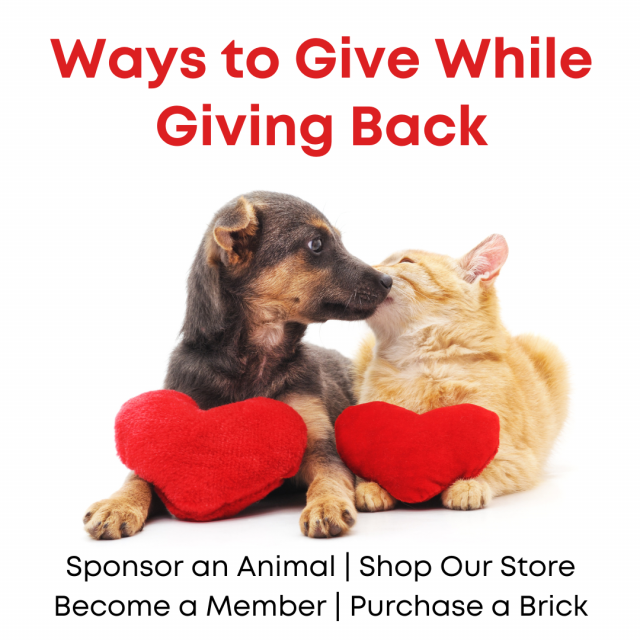 Looking for meaningful gifts for the animal lovers in your life this holiday season? Following are gifts that give back:
Sponsor an Animal
Support animals with an instant, custom gift for the pet lover(s) in your life. With your sponsorship, you will receive a link to a printable certificate including a picture of the animal that you sponsored. You can personalize the certificate with your own message to your recipient!
Online Store
Unique gifts with compelling messages, and proceeds benefit our animals, programs, and services!
BJ Chimenti Angel Fund for Veterans and Pets
The mission of this program is to nurture the healing powers of the human animal bond and provide ongoing support to our military veterans and active duty servicemen and women and military families.
Zach Leathers Emergency Medical Fund
This fund provides funds to support vital care for special needs animals allowing them to live full and happy lives.
Commemorative Bricks
Personalized bricks become a permanent part of history in the Memorial Garden at our facility.
Memory & Honor Donations
Give a memorial gift in honor or memory of a special person. You can choose to whom recognition of your gift will be sent. Both you and your tributee will be recognized in our annual Memorial Newsletter.
The Gift of Membership
Humane Heroes members receive perks, behind the scenes news, and more. Give a membership as a gift, and your recipient can receive our membership package.
Shelter Wish List
The shelter is always in need of and appreciates donations of items from our Wish List.