"Volunteering to serve others is the rent we pay for the space we occupy in this world." – author unknown.
Volunteers at Hinsdale Humane Society are vital to our organization. With their help, we are able to provide continued care, love and attention to our four legged friends until they find their forever homes.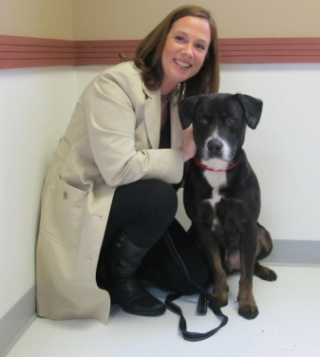 Kym Iffert
Why HHS?
A few years ago my family adopted a dog from a shelter in Indiana. She was a beautiful dog that had unfortunately been abused and neglected for the first few years of her life. While she was wonderful with our family, she was left with some long-term mental and physical problems that led to her ultimate demise. Knowing only some of what she had been through and that she was still able to give so much unconditional love to our family, I decided the best way to honor her memory would be to give some sense of love and security to dogs who have been mistreated, neglected, or re-homed. Through HHS, I also trained my next (and current) dog, Dino to be a therapy dog so others could know the joy that dogs bring to our lives. Working at HHS with so many great animals has also inspired me to become a dog trainer to try to keep as many dogs out of shelters as possible.
Town: LaGrange Park
Pets: Dino (yellow lab), Sugar (Border collie Golden ret. mix), three teenage daughters.
Volunteer since: 2009
Volunteer jobs: Red Dog walker, Pet-a-Pet, CARe, READ program
Fun Fact: I was raised in a military family that moved every two years until I was in high school. Once my family settled down, I ended up marrying my high school sweetheart.
Sam & Madeline, Gaetano, Leea, Rosalia, Maria and Virginia LoPresti
Why HHS?
Dogs and Cats are God's Creations. They are helpless animals that only want to provide us with unconditional love. It is the least we can do to make sure their lives are safe, comfortable and filled with love. It gives us great comfort knowing we have made a difference in their lives until they reach a safe new home once adopted.
Involving the whole family has allowed our five children to know that it is not all about them, but about volunteering and helping those in need. It teaches them about responsibilities, chores, sacrifice, giving your time and getting something more valuable in return than a paycheck, it's a learning lesson in life. It has deepened their feelings to care, love and have a giving heart for all of God's creations, something we feel will be important in their lives.
Additionally, during the years of volunteering, we have made many great friends with those that share our love for the care and safety to all animals.

Last, but not least, it is GREAT FUN for the whole family and we get more pleasure out of volunteering than the assistance we give.
Town: Hinsdale
Pets: Yorkshire Terriers, Chihuahua, and 2 Cats. And then there is Timmy. Timmy is one our foster kittens that no one has the heart to tell him he is a cat, and acts and thinks he is our 6th child!
Volunteer since: April, 2005
Volunteer jobs: Various cleaning jobs at shelter when needed, fostering pregnant cats or dogs and caring for the litters until they return to the shelter for adoption, Pet Walk Sponsor, Pet Walk Sign Design & Creator, Pet Walk Set Up & Take Down Crew, and Pet a Pet visits at King Bruwaert with Charles, my Chihuahua.
Fun Fact: When I was growing up, my parents would often tell me, "if you meet someone that doesn't like or mistreats animals, be leery of trusting them!". I have found that to be an interesting measure to use when choosing my friendships.