"Volunteering to serve others is the rent we pay for the space we occupy in this world." – author unknown.
Volunteers at Hinsdale Humane Society are vital to our organization. With their help, we are able to provide continued care, love and attention to our four legged friends until they find their forever homes.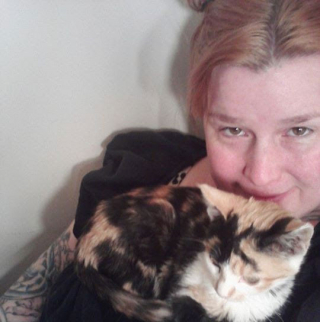 Jeanine Vaughn
Why HHS?
I have always had a heart for animals. It's wonderful to have a place where I can make a direct impact on the lives of our pets and know that they have the best care.
Town: Hillside
Pets: 3 cats - a DLH gray male named Meander (a Hinsdale Humane Society alum), a DMH black male named Nemesis and a DSH black male named Ink.
Volunteer since: May of 2011. Before that, I worked at HHS for over three years. I was the Feline Care Supervisor, an Adoption Counselor and help
Volunteer jobs: The main thing I do volunteer-wise is foster kittens. I began doing that when I was working at HHS. Since I have so much experie
Fun Fact: I have three jobs: I have a dog walking / pet care gig through Out-U-Go!, I work at the Clarendon Hills Library and I write (mostly fiction) stories.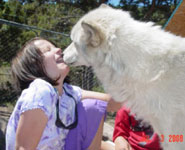 Clara Grayson
Why HHS?
I chose to volunteer because my mom was working at HHS and it seemed like a natural thing to do. I appreciate the organization's work.
Town: La Grange Park
Pets: My family has fostered many dogs over the years.
Volunteer since: 2010
Volunteer jobs: I do cat socializing, laundry, weigh kittens, and have helped with closing the cat room and helped when we used to foster dogs.
Fun Fact: I like to bake.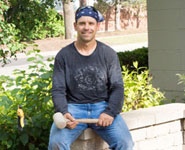 Brian Karalow
Why HHS?
I was introduced to Lori Halligan by a friend of mine who still volunteers at the shelter. The Memorial Garden project is a great way to give back to the community. HHS has this beautiful brick garden for people and pets to enjoy. I'm glad to have a part in its creation and maintenance.
Town: Woodridge
Pets: I grew up with dogs my whole life but I currently travel too much to care properly for a pet.
Volunteer since: 2009
Volunteer jobs: Installation of the Carla Fisher Memorial Garden, with annual updates of memorial bricks.
Fun Fact: I'm a sports fanatic - I keep myself busy with a race a month and do a fall adventure out west every year. I've completed an Ironman and an Eco-Challenge (2001 Borneo). My day job is a web developer but my passion is brick pavers.
Bill Buckley
Why HHS?
I really enjoy being around all of the animals that come into the shelter. It's a way for me to give back and spend time with the animals while they wait for their forever homes.
Town: LaGrange Park
Pets: We don't currently have any pets of our own, but I consider the animals at HHS as my pets.
Volunteer since: 2009
Volunteer jobs: I help out by driving them to their vet appointments and running errands in the shelter's van to help the staff.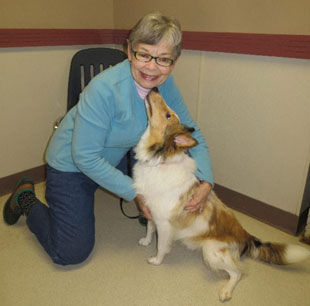 Marilyn Pavlik
Why HHS?
Doing something on behalf of animals gives me pleasure and satisfaction. I strongly support HHS' mission and by volunteering, I hope to be able to contribute to the shelter's goal of finding loving, forever homes for each animal in its care.
Town: Berwyn
Pets: 2 dogs, Bucky and Holly, a father-daughter duo, adopted from HHS in 2011.
Volunteer since: 2013, but I have supported HHS activities for more than 20 years
Volunteer jobs: Video filming, special activities/events, Christmas gift wrapping and decorating, HHS mailings, Bowling Fundraiser and Pet Walk.
Fun Fact: Volunteering at HHS and having contact with so many animals was at the top of my post-retirement plans, so I'm able to "live my dream".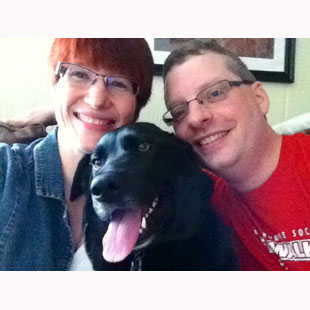 Dr. John Bishop, DVM and Dr. Ann Marie LoPiccolo, DVM & HHS Board member
Why HHS?
We strongly believe in and share HHS's mission to promote the adoption and welfare of homeless animals. We too are dedicated to the compassionate treatment of animals and the prevention of animal suffering and neglect. We have always been very impressed with the high level of care that HHS staff and volunteers provide for their homeless animals, the cleanliness and organization of the facility and the great depth of community services provided by HHS. We feel a great sense of pride in serving one of the top charity organizations in our community with our unique skills as veterinarians. We truly enjoy our time spent with HHS animals, staff and fellow volunteers; we definitely get as much as we give in our relationship with HHS.
Town: Woodridge
Pets: Bella, a two year old labrador mix adopted from HHS at 8 weeks of age.
Volunteer since: Dr. Bishop 2004, Dr. LoPiccolo 2005
Volunteer jobs: Veterinarians - we examine, treat, spay / neuter and vaccinate stray and shelter animals.
Fun Fact: We first met in Vet School and are currently enjoying our 13th year of marriage.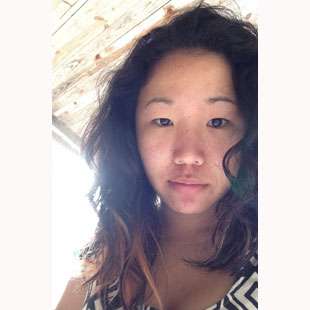 Benita Ning
Why HHS?
I feel like the animals that end up at our shelter are there because humans have neglected them, so it must be our job to take care of them. I love to help out because I love my own dog, and think it's unfair that other animals don't get that same love. Hopefully, I can contribute to their adoption.
Town: Willowbrook
Pets: A Golden Retriever named Alfie who has just turned 1.
Volunteer since: November, 2013
Volunteer jobs: I started as a green dog walker but have since become a yellow dog walker and also like to help out with the laundry.
Fun Fact: I love being busy, so I do marching band and stage crew at my school.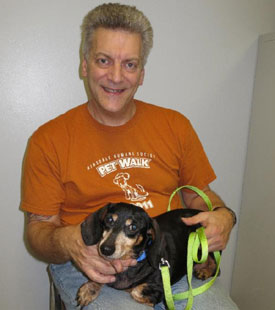 Ken Johnston
Why HHS?
My Mom and I belong to the CSA Fraternal Life organization, and they wanted us to do some volunteering. We started at HHS and loved doing it so much that we have stayed on.
Town: Brookfield
Pets: Two dogs, both from HHS!
Volunteer since: May, 2010
Volunteer jobs: Yellow dog walker, cat socializer and fundraising.
Fun Fact: I am working on my first patent.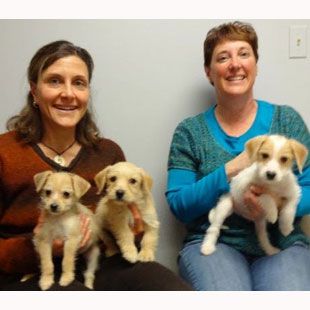 Vicki Gerberich & Julie Beitz
Why HHS?
Since Vicki was in the fourth grade, all of her dogs have been rescues from HHS, except for one she brought back to the states from American Samoa where she worked for over a year. Julie has a soft spot for pit bulls and loves to educate people about the advantages of adopting rather than shopping. She has had rescue dogs all of her life and wouldn't have it any other way. As a teacher, Julie enjoys working with her dog Kringle and local school children, encouraging a love for reading and improving reading comprehension.
Town: Western Springs
Volunteer since: Vicki Gerberich has been a volunteer for over three years and her sister Julie has been here for 5 months.
Volunteer jobs: Vicki is a Red dog walker and Julie is a Yellow dog walker and READ volunteer.
Fun Fact: Fun Fact: Vicki volunteers because dogs have brought so much happiness to her throughout her life. Julie volunteered for a pit bull rescue in the past. Now at HHS she is able to walk the dogs and know that she has been a bright spot in their day.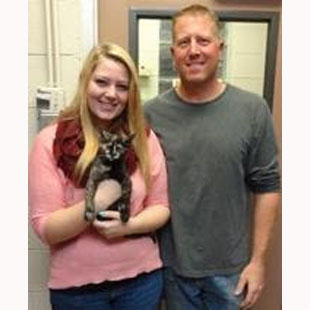 Mark & Cassidy Counihan
Why HHS?
Cassidy likes to take the cats out and play with them so they can be comfortable with people and get adopted out to the right home. Mark volunteers with his daughter at Hinsdale Humane Society because he got his first kitten here when he was younger, and his daughter loves cats.
Town: Westmont
Volunteer since: Mark and his daughter Cassidy have been volunteering since July 2012.
Volunteer jobs: Cat socializers.
Fun Fact: Cassidy plays a musical instrument and likes hockey, but loves animals and nature. Mark is a bowler and has bowled three 300 games, is a self-admitted geek and likes to build his own computers.