"Volunteering to serve others is the rent we pay for the space we occupy in this world." – author unknown.
Volunteers at Hinsdale Humane Society are vital to our organization. With their help, we are able to provide continued care, love and attention to our four legged friends until they find their forever homes.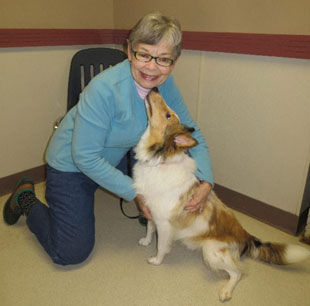 Marilyn Pavlik
Why HHS?
Doing something on behalf of animals gives me pleasure and satisfaction. I strongly support HHS' mission and by volunteering, I hope to be able to contribute to the shelter's goal of finding loving, forever homes for each animal in its care.
Town: Berwyn
Pets: 2 dogs, Bucky and Holly, a father-daughter duo, adopted from HHS in 2011.
Volunteer since: 2013, but I have supported HHS activities for more than 20 years
Volunteer jobs: Video filming, special activities/events, Christmas gift wrapping and decorating, HHS mailings, Bowling Fundraiser and Pet Walk.
Fun Fact: Volunteering at HHS and having contact with so many animals was at the top of my post-retirement plans, so I'm able to "live my dream".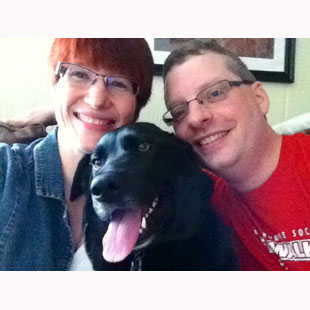 Dr. John Bishop, DVM and Dr. Ann Marie LoPiccolo, DVM & HHS Board member
Why HHS?
We strongly believe in and share HHS's mission to promote the adoption and welfare of homeless animals. We too are dedicated to the compassionate treatment of animals and the prevention of animal suffering and neglect. We have always been very impressed with the high level of care that HHS staff and volunteers provide for their homeless animals, the cleanliness and organization of the facility and the great depth of community services provided by HHS. We feel a great sense of pride in serving one of the top charity organizations in our community with our unique skills as veterinarians. We truly enjoy our time spent with HHS animals, staff and fellow volunteers; we definitely get as much as we give in our relationship with HHS.
Town: Woodridge
Pets: Bella, a two year old labrador mix adopted from HHS at 8 weeks of age.
Volunteer since: Dr. Bishop 2004, Dr. LoPiccolo 2005
Volunteer jobs: Veterinarians - we examine, treat, spay / neuter and vaccinate stray and shelter animals.
Fun Fact: We first met in Vet School and are currently enjoying our 13th year of marriage.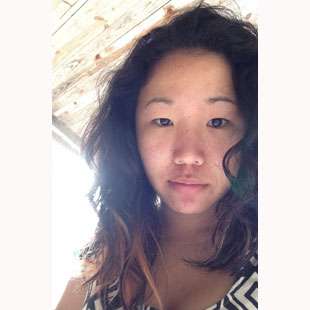 Benita Ning
Why HHS?
I feel like the animals that end up at our shelter are there because humans have neglected them, so it must be our job to take care of them. I love to help out because I love my own dog, and think it's unfair that other animals don't get that same love. Hopefully, I can contribute to their adoption.
Town: Willowbrook
Pets: A Golden Retriever named Alfie who has just turned 1.
Volunteer since: November, 2013
Volunteer jobs: I started as a green dog walker but have since become a yellow dog walker and also like to help out with the laundry.
Fun Fact: I love being busy, so I do marching band and stage crew at my school.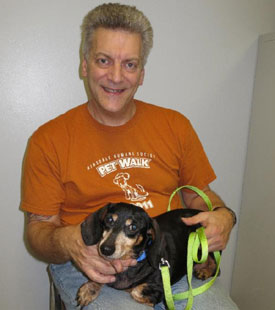 Ken Johnston
Why HHS?
My Mom and I belong to the CSA Fraternal Life organization, and they wanted us to do some volunteering. We started at HHS and loved doing it so much that we have stayed on.
Town: Brookfield
Pets: Two dogs, both from HHS!
Volunteer since: May, 2010
Volunteer jobs: Yellow dog walker, cat socializer and fundraising.
Fun Fact: I am working on my first patent.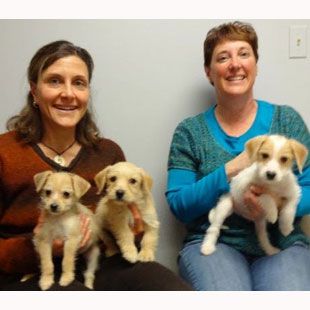 Vicki Gerberich & Julie Beitz
Why HHS?
Since Vicki was in the fourth grade, all of her dogs have been rescues from HHS, except for one she brought back to the states from American Samoa where she worked for over a year. Julie has a soft spot for pit bulls and loves to educate people about the advantages of adopting rather than shopping. She has had rescue dogs all of her life and wouldn't have it any other way. As a teacher, Julie enjoys working with her dog Kringle and local school children, encouraging a love for reading and improving reading comprehension.
Town: Western Springs
Volunteer since: Vicki Gerberich has been a volunteer for over three years and her sister Julie has been here for 5 months.
Volunteer jobs: Vicki is a Red dog walker and Julie is a Yellow dog walker and READ volunteer.
Fun Fact: Fun Fact: Vicki volunteers because dogs have brought so much happiness to her throughout her life. Julie volunteered for a pit bull rescue in the past. Now at HHS she is able to walk the dogs and know that she has been a bright spot in their day.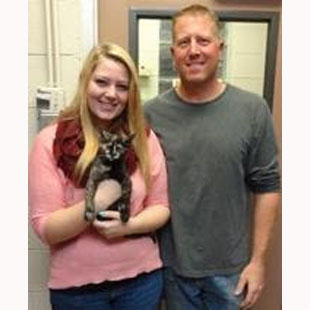 Mark & Cassidy Counihan
Why HHS?
Cassidy likes to take the cats out and play with them so they can be comfortable with people and get adopted out to the right home. Mark volunteers with his daughter at Hinsdale Humane Society because he got his first kitten here when he was younger, and his daughter loves cats.
Town: Westmont
Volunteer since: Mark and his daughter Cassidy have been volunteering since July 2012.
Volunteer jobs: Cat socializers.
Fun Fact: Cassidy plays a musical instrument and likes hockey, but loves animals and nature. Mark is a bowler and has bowled three 300 games, is a self-admitted geek and likes to build his own computers.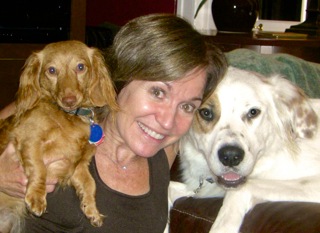 Sharon Foley
Why HHS?
Because I have a deep passion for animals and anything I can do to help and get involved, feeds that passion.
Town: Oak Park
Pets: Isabel, a beautiful mixed breed dog, and Brenna, a long haired mini dachshund.
Volunteer since: This is my first year as an HHS Board Member. I volunteered at an Oak Park animal shelter prior to this.
Volunteer jobs: Board Member, Gala Planning
Fun Fact: I have a passion for the 3 Ds: dogs, dancing and dining. I was also an aerobics instructor for over 20 years.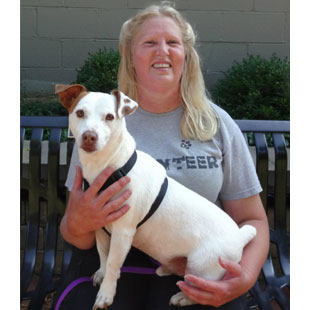 Eileen Zaba
Why HHS?
I think I volunteer here for the same reason everyone else does - I love the animals! It's fun coming in to see them every week and it's fun when you see them go home with a great family.
Why HHS thinks Eileen is special:
Eileen has donated over 1000 hours of volunteer time to helping the animals and the humans at the shelter. She always has a smile on her face, whether she's walking dogs in 100 degree weather or shoveling snow when it's below zero!
Town: Western Springs
Pets: None at the moment.
Volunteer since: 2010
Volunteer jobs: dog walker, gardening, cat socializer, special events, fundraising
Fun Fact: I'm a huge Rick Springfield fan. I also love to bake and garden.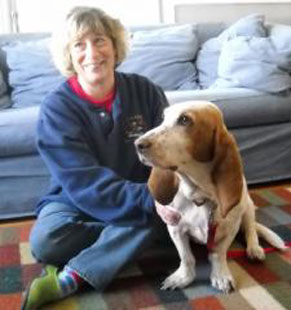 Patti LaMantia
Why HHS?
I have always loved animals, and wanted to do volunteering, and I thought, do what you love. I've made many friends, and enjoy working with the animals. I love the happy ending stories, and knowing that I have contributed in some way for them to find homes.
Town: Westchester
Pets: Basset Hound, Charlie; cats, Zappa, Zowie, Zeke, Zayda
Volunteer since: 2000
Volunteer jobs: cat socializer, dog walker, selling raffle tickets, face painting at HHS events, fundraising
Fun Fact: I work as a Quality Assurance Engineer, but really love being creative in any way that I can. I make jewelry, have done graphic design, painted murals, and anything else I can think to make. I also enjoy gardening. There's something about digging in dirt that I find very therapeutic.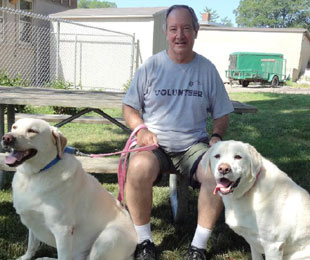 Paul Hollis
Why HHS?
I was exploring volunteer opportunities in anticipation of my retirement. HHS was a natural choice because of my love for animals. In addition, it was a tribute to our dog Inky who had passed, it filled the void. Little did I know I'd be hooked forever. The staff at HHS is the best, and the dogs and cats capture your heart.
Town: Countryside
Pets: Lab mix, Inky (deceased 2006), Casey the cat (deceased 2012), wants to adopt a therapy dog.
Volunteer since: 2007
Volunteer jobs: Red Dog Walker
Fun Fact: Paul uses shelter names for his various passwords at work, hoping it brings the pets good luck. He ran his first marathon in 1970, the same year he and his friends came up with the phrase "eat my shorts." It took Bart Simpson a while longer to make it popular.