"Volunteering to serve others is the rent we pay for the space we occupy in this world." – author unknown.
Volunteers at Hinsdale Humane Society are vital to our organization. With their help, we are able to provide continued care, love and attention to our four legged friends until they find their forever homes.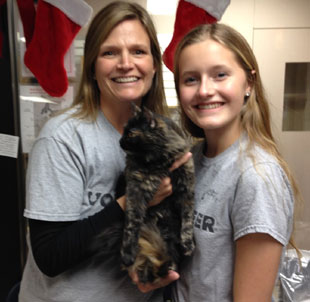 Megan & Katie Erickson
Why HHS?
When Katie was 13 she begged to volunteer at the shelter. At that time the only opportunity available to 13 year olds was "socializing cats with adult supervision" so we applied and there happened to be an opening. We have a family member who is allergic to cats so we can't have one in our home, so we really enjoy getting to socialize them at the shelter. Katie had never played with a cat before she was a socializer!
Town: Hinsdale
Pets: We have 2 dogs - border collies. We adore them but after volunteering at the shelter, we recognize the need for people to adopt senior dogs and plan to rescue seniors in the future.
Volunteer since: April 2015
Volunteer jobs: Cat Socializer, Cat website photographer
Fun Fact: Katie and I are passionate about the shelter and every pet that comes through. Until recently we never realized that many people in the community are also passionate, know the names of the animals at the shelter and track adoptions all through social media and the website! As a way to network and highlight available animals and shelter work from a volunteer and Hinsdale resident point of view, we decided to start an Instagram account, Hinsdale to the Rescue. We became SCUBA certified together a couple of years ago and love to dive!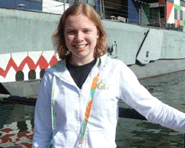 Katie Marr
Why HHS?
I wanted to help animals in some way, and HHS was perfectly placed, both geographically and the with types of work I was interested in. My day job can be quite stressful at times, and I wanted to do something that was low-stress but also mattered in some way. The opening procedures and cat socializing I do fit that exactly.
Town: Willowbrook
Pets: I have two female cats, Sibley (17) and Arwen (8). Both are rescues of course! Sibley is from Michigan, and Arwen was born in California. They're reluctant travelers, but move whereever I do.
Volunteer since: April, 2015
Volunteer jobs: "Opener" and Cat Socializer
Fun Fact: I'm learning to sew so that I can make costumes for myself to wear at fan conventions (like Comic Con). My ultimate goal is to make an historically accurate Elizabethan Era court gown. It may take a few years to get there though, especially since the cats like to "help".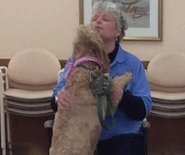 Marianne Bero and Ginger
Why HHS?
My dad had to spend some time in assisted living during his final illness...I remember thinking if the opportunity ever presented itself, I would like to give back and visit others in that situation and make a small difference in day to day routines.
Fast forward a few years...a beautiful puppy named Ginger entered our life, and had so much joy to share....I thought she might make a great therapy dog if she ever settled down from puppyhood. When Ginger turned 3 I saw the opportunity to volunteer for Pet A Pet at HHS....so we gave it a try. Ginger was great and we decided to go for Pet Partners certification so we could also volunteer for READ...and it was a proud moment when we passed!
Town: Westchester
Pets: We have a 3 year old rescue pug, Ruby, who is devoted to Ginger and a 13 year old cat, Alli.
Volunteer since: October, 2013
Volunteer jobs: Pet Therapy Team
Fun Fact: Ginger was named by the little boy who had Ginger's mother. After we had her several months someone asked me....did you name her because of Gilligan's Island....Ginger & Marianne? That was the first time I made the connection....but it has come up and we have laughed about it many times since. To take it one step further...my husband's name is Fred....Fred & Ginger...some things are just meant to be!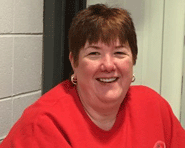 Kathy Dieskow
Why HHS?
I decided to volunteer at HHS because I love animals and didn't have anyone at home at the time. Three weeks later my Bailey cat came home with me.
Town: Brookfield
Pets: Pets at home - Now I live with two cats, my boy Jackson and my girl Skylar (also HHS alums).
Volunteer since: January 2002
Volunteer jobs: Dog walker, cat socializer, videographer and general event volunteer.
Fun Fact: Jackson actually adopted me. As I entered the cat room he started talking to me and then put his paw out waving me over. As I walked up to his cage he put his paw on my face and reeled me right in. And Samantha has taken care of all my adoptions!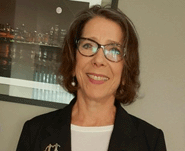 Ruth Novak
Why HHS?
I wanted to get involved because I love animals and it breaks my heart to think of them in cages trying to figure out what happened to their little lives and waiting for their forever homes. It has been very satisfying to learn that everyone gets adopted, maybe not as quickly as we would like to see, but they do go home. And they are truly cared for at HHS by the great staff and volunteers.
Town: Burr Ridge
Pets: I am the Mom to an 11 year old Siberian named Duster. She is smart and comical and loving and I couldn't ask for a better cat. If I could, I would have a dozen cats and dogs...so instead I socialize with them at the HHS.
Volunteer since: August 2015
Volunteer jobs: Cat Socializer
Fun Fact: I used to be in a comedy improv group in the 80's with a guy who you may know from his role on 'Parks and Rec'.
Kym Iffert
Why HHS?
Kym found HHS 10 years ago and has become involved in every aspect of the organization since then. Starting out walking dogs, she then became our Humane Educator where she also created our Jr. Board, and continually and voluntarily stepped into any other role that needed help along the way, including Volunteer Coordination, which she eventually took over. Kym's passion for animal welfare is extraordinary and her multi-faceted talents have benefitted the shelter on multiple levels. We are so thrilled she found us!
Town: LaGrange Park
Pets: 4 dogs: Sugar, Dino, Chopper and recently Dover, previously a foster dog, now an official part of the Iffert pack.
Volunteer since: 2006
Volunteer jobs: Kym is currently our Volunteer Coordinator, but does so much more on any given day, it's hard to fit it all in. She contributes graphic design, interior design, dog obedience and event planning, as well as stepping in on reception and any other shelter or society-related tasks as needed. In her "spare time" she also volunteers to walk dogs for the shelter, represents HHS at multiple events and donates her artistic talents and dog training services to our fundraisers for the past decade. Congratulations on 10 years of volunteering at HHS Kym!
Fun Fact: In addition to her graphic and interior design background, Kym is also an artist who creates home exterior renderings, and fantastic pet illustrations that are an art form unto themselves. (Some of her work will be available on t-shirts at our upcoming Santa's WOOFshop event!)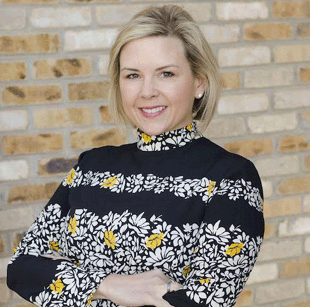 Alison Jenzen
Why HHS?
The last fur baby I had came from pet adoption and she was the pet love of my life! I miss her everyday and that adoption changed the way I perceived animal shelters. We are currently pet-free and my girls are dying for a doggie, so volunteering with HHS gives us the opportunity to fill that void. I love what HHS stands for, that it is a no-kill shelter and and all the effort they put into saving animals in the community. It's such a great way to give back, especially for animal lovers who don't have the ability to take on a pet at the moment.
Town: Elmhurst
Pets: None at the moment, but my family is anxiously waiting!
Volunteer since: 2016
Volunteer jobs: At HHS I am the Social Chair for the annual gala and try to support my friend and rock star volunteer Mistie Lucht whenever she needs me. I am also a Brownie Leader and PTA Social Committee Co-Chair.
Fun Fact: In my spare time, I run a website called So Chic Life for sophisticated women.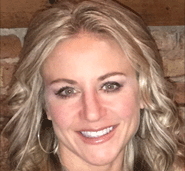 Kristen Venetsanopoulos
Why HHS?
I've been a resident of Hinsdale for 11 years and it's always nice to get involved locally. I have a genuine love for animals of all kinds, especially dogs. Nothing makes me happier than seeing an animal be placed in a loving home. I love what HHS stands for and and all the effort they put in to saving these animals.
Town: Hinsdale
Pets: 4 year old Pomeranian Kali and 2 year old Great Pyrenees mix Maggie. Both were adopted from HHS.
Volunteer since: 2012
Volunteer jobs: Dog walker and anything else HHS needs help with, like laundry. Working with HHS staff to help with the upcoming lobby remodel. I am an interior designer by trade.
Fun Fact: I started a local bowling league called the Bad News Bowlers 5 years ago with local parents from my children's school. We are starting our 5th season and have over 50 people that have joined including HHS Board member Nate Lucht and his wife Mistie, who just joined this season! I'm not even a good bowler but it sure is a fun way to get to know other local parents and laugh for a night!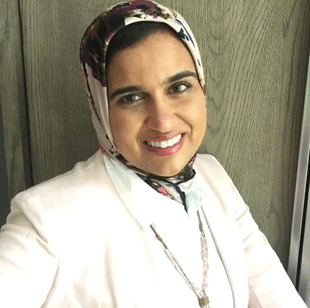 Reem Hassaballa
Why HHS?
Not only have I always had a passion and heart for animals, I think it is a great way to give back to the community and utilize my professional skills in a positive and meaningful manner.
Town: I live in Hinsdale, but was born and raised in New Berlin, Wisconsin (major Cheesehead here).
Pets: We are waiting for the appropriate time for our family to adopt an animal.
Volunteer since: Just this past year.
Volunteer jobs: At HHS, I am the Howl-o-ween Ball Design Co-Chair. I am also the Director of the Bayan Hassaballa Foundation (www.ourangelbayan.org), Chair of the International Committee at Monroe School, Monroe Care ("Blankets for Bayan" event), member of Hinsdale Junior Woman's Club (HJWC) and volunteer at Hinsdale Central.
Fun Fact: I am of Egyptian descent (and no, I do not "Walk Like an Egyptian" as everyone in high school would ask me).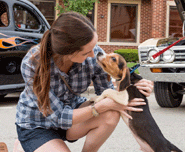 Ashley Gill
Why HHS?
HHS advocates through education and public service to encourage the compassionate treatment of animals and I support their mission wholeheartedly. As a volunteer, my heart fills with happiness as I see the dedication of each staff member that cares for every dog and cat and makes sure they are placed in proper homes to be cared for and loved unconditionally.
Town: Downers Grove
Pets: I don't have any pets at the moment, but we had a Beagle named Dakota who was the life of the party! She was the most loving, loyal and witty dog and we miss her deeply.
Volunteer since: 2015
Volunteer jobs: I am a yellow dog walker and I really enjoy providing exercise and companionship to the shelter dogs. I also assist with special events.
Fun Fact: I love staying busy so I volunteer my time on the Executive Board as Development Chair of the Young Nonprofit Professionals Network of Chicago.