"Volunteering to serve others is the rent we pay for the space we occupy in this world." – author unknown.
Volunteers at Hinsdale Humane Society are vital to our organization. With their help, we are able to provide continued care, love and attention to our four legged friends until they find their forever homes.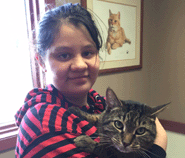 Jazmin Patino
Why HHS?
HHS is proud to be part of the Hinsdale South Deaf and Hard of Hearing Program in which students learn applicable job skills while volunteering.
Town: Cicero
Pets: I have a small, light brown dog named Rocky
Volunteer jobs: Cat Socializing and Laundry Angel
Fun Fact: I am part of the deaf student program at Hinsdale South High School and love to play soccer.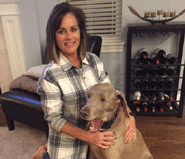 Dee Downs
Why HHS?
I volunteer because I love animals. Its amazing to see how different each shelter dog is. Some dogs are fun loving and are just happy to have a human that wants to take them for a walk and spend some one on one time with them. Then there are the dogs that come from puppy mills, hoarding situations or some other horrible situation. Those are the dogs that break my heart and at the same time keep me coming back. It is very rewarding to see a dog who came to us, very frightened, who had never seen a leash, had its paws touch grass or felt the touch of a human hand, learn to trust humans. Without places like HHS, these animals would never get a second chance to enjoy the remainder of their lives in a loving family.
Town: Elmhurst
Pets: I have a Weimeraner named Kahlua
Volunteer since: I've been a volunteer since February of 2013.
Volunteer jobs: I'm a red dog walker.
Fun Fact: I wouldn't be a volunteer at HHS if it weren't for my daughter who asked me to go with her to an orientation meeting. I had no idea such a program existed.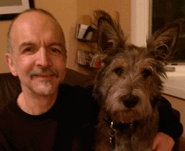 Rafael Tenorio
Why HHS?
I love animals, especially dogs. When we lost our 12 year old Giant Schnauzer, Cindy, last year, I was deeply hurt and felt something huge was missing. To attempt to heal, and to honor Cindy I applied to volunteer at HHS. Little did I know that, weeks later, by the time I received the call to interview and join HHS, we had already decided to rescue George and welcome him to our family.
Town: LaGrange Highlands
Pets: George (Shepherd-Schnauzer mix, 18 months old)
Volunteer since: September, 2015
Volunteer jobs: Yellow Dog Walker; videographer for the website
Fun Fact: My time at HHS is the highlight of my week!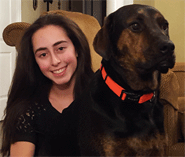 Emma Sorrentino
Why HHS?
I have so much fun socializing the adorable puppies that come into the Hinsdale Humane Society, but I also love to know that I'm helping them become more adoptable for families who are looking to bring a new member into their family.
Town: Burr Ridge
Pets: A rescue dog named Dante
Volunteer since: May 2015
Volunteer jobs: Puppy socializer, HHS Junior Board Volunteer Coordinator and member
Fun Fact: I love to play lacrosse and tennis.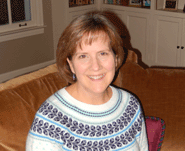 Jill Clarke
Why HHS?
I support the HHS mission of finding forever homes for the animals that they take in, and appreciate the care that they take in placing the dogs and cats in homes where they will be loved and thrive. As a volunteer, I love experiencing the unique personalities of each dog, and the love that they give you when you show them simple kindness.
Town: Hinsdale
Pets: None right now, but we had a Norwegian Elkhound mix named Kayla, whom we adopted from Hinsdale Humane Society in 2007. She was the perfect dog for us, and we still miss her dearly!
Volunteer since: Spring, 2015
Volunteer jobs: I am a "yellow" dog walker. I volunteer every Tuesday afternoon to take a few of the dogs out for exercise, some one-on-one attention, and a little quiet time away from the stress of the kennels and other dogs.
Fun Fact: I am also a Girl Scout Troop leader for an Ambassador troop at Hinsdale Central.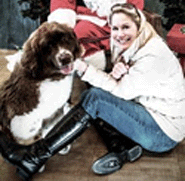 Jennifer Arney
Why HHS?
In November of 2013, my family lost our 2 1/2 year old Newfie puppy Rufus to a disease he was born with. I was searching for a way to heal from this unexpected loss. I missed the company and presence in my home, but was nowhere near ready for another pooch. Surrounding myself with kind, empathetic & animal loving people seemed like a good start, so I attended an orientation at HHS to be a dog walker. It seems that the dog walking and being a part of the HHS team was a perfect transition to healing and becoming a dog owner once more. We brought Desmond, a Mastiff Hound mix, home the 4th of August. Daisy, a 9-week old Newfoundland, was our biggest surprise. She joined our ecstatic family on the 18th, just 2 weeks later. We were sad to learn that Desmond did not get along with our cats. Luckily, my sister had fallen head over heels in love with him, and joyfully embraced him as her own. He now lives in his new forever home, which is not far away. We get to see him all the time! All I can say is HHS did something for me I will never forget. Not only did they rescue our Desmond on the Mississippi Blues mission from an uncertain fate, but they have also brought a Newfie back into our lives. Rufus would approve.
Town: Western Springs
Pets: 1 fish (Fishy McBites), 1 Plecostomus Catfish (Pablo), 2 Tabby rescue cats from HHS (5 year olds Catso & Cayman), and Daisy, a 12-week old Newfoundland puppy
Volunteer since: April 17, 2014
Volunteer jobs: Green & Yellow Dog Walker, Foster Home Care Family, Cat Socializer and Off-Site Volunteer
Fun Fact: Being concerned for the now endangered Monarch Butterfly, I created a Monarch Way Station this Summer. I have successfully "hatched" and released 18 butterflies out of 25 caterpillars into my garden. The survival rate in the wild is a mere 1% so this number is quite a successful first attempt. The whole experience has left my kids in awe of how cool and magnificent nature can be.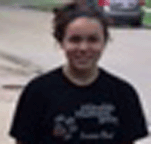 Glory Jacquat
Why HHS?
For me it has never seemed like work and I'm a big time animal lover, so in my eyes, it's a great way to spend my time each week.
Town: Elmhurst
Pets: Shadow, a sweetheart Dane we adopted from HHS last year; Casper, a golden/lab mix who is going strong on 13; and Lysander, (formerly Junior) a cat we adopted from HHS about 2 years ago.
Volunteer since: July 2012
Volunteer jobs: I'm lucky enough to have been a cat socializer since I was 13 with my mom, a kitten weigher during one of the kitten seasons, also with my mom, and am now a green dog walker.
Fun Fact: For the past several years, I've spent the holidays at the shelter for a few hours to be with the animals.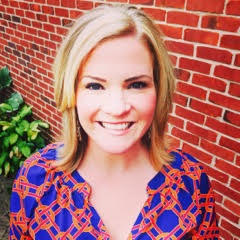 Christie Cuthbert
Why HHS?
HHS is such a wonderful organization that helps so many animals and families. It is inspiring to see the compassion and love that the staff gives to each animal and the care that is taken to match these wonderful animals with their new family.
Town: Hinsdale
Pets: Fergie the Daschund
Volunteer since: 2013
Volunteer jobs: HHS Ambassador, Black Cat Ball Event Chair, Fetching Affair Event Chair
Fun Fact: I've had a rescue dog as my pet my entire life! Fergie has been a lifesaver for my family of 4 small boys - literally! She warned me that my oldest son was choking. She flew up the staircase barking her head off and grabbed my pant leg with her teeth, dragging me to the top of the stairs. I saw John at the bottom of the stairs turning blue. He was choking, and had Fergi not come and alerted me, I'm not sure I would have gotten to him in time. I was able to run down and give him the Heimlich.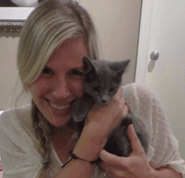 Jamie Andrekopoulos
Why HHS?
I love animals and helping them in any way I can. The days the shelter pets come in for their photo shoots are some of the best days we have in the studio. I look forward to it every year and am happy to be able to help the homeless animals of HHS.
Town: Chicago
Pets: A rescue cat named Macaroni (who graced one of last year's HHS holiday cards!)
Volunteer since: January, 2013
Volunteer jobs: Holiday card photographer and promoter of all things HHS.
Fun Fact: I am recently married, and have been the head photographer at Classic Kids Hinsdale for 6 year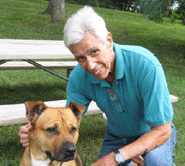 Bill Santucci
Why HHS?
I am semi-retired and wanted to give back to the community. My sister, Mary Beth White (also an HHS volunteer) encouraged me to visit and I was so impressed with the dedication of the wonderful people working here. I've learned a lot (Kym Iffert, the trainer, has been educating me.) So for me it's not just about the dogs, it's also about the people.
Town: LaGrange
Pets: Meatball (Marmaduke), recently adopted from HHS and pictured here with Bill.
Volunteer since: 2014
Volunteer jobs: Red dog walker.
Fun Fact: I had 4 dogs at one point, and would take them with me on wilderness adventures. Meatball will come with me on the next one.