"Volunteering to serve others is the rent we pay for the space we occupy in this world." – author unknown.
Volunteers at Hinsdale Humane Society are vital to our organization. With their help, we are able to provide continued care, love and attention to our four legged friends until they find their forever homes.
Dog Walkers
Why HHS?
Dog walkers like Linda Gordon work with our dogs that are ready to be adopted out to new homes. Volunteers work on socialization, leash behavior, and basic commands through hand signals.
This rewarding volunteer position provides our dogs with much needed one on one time with caring humans as well as fresh air and exercise.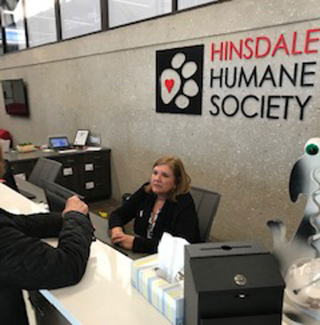 Greeters
Why HHS?
This month we're spotlighting one of the new positions that have been developed due to our our move to the Pet Rescue & Resource Center (PRRC): Volunteer Greeters.
Greeters are often the first impression of HHS that customers have. Our volunteers in this critical role must be 18 years of age or older and have excellent customer service skills.
Our greeters are empathetic to the sometimes emotional stories that come through our doors. Setting aside judgment can be difficult at times, but is mandatory for anyone working with our guests.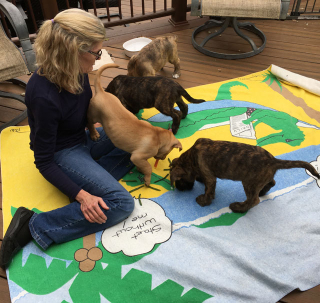 Foster
Why HHS?
This month we're spotlighting one of the many volunteering opportunities we offer: Fostering.
Foster families help us save more animals' lives by taking in those that need a home environment to properly heal from a surgery or illness, to give birth to a litter or to have a quiet home environment to wait in until they find their forever home.
Fostering provides the perfect opportunity for families or individuals who cannot make a lifetime commitment to an animal, but want to experience the joys of caring for a pet or pets.
Some of our fosterers have found themselves with a child away at college and an extra bedroom to spare, providing the perfect opportunity to help out a pet in need until they are able to be adopted.
Volunteer fosterers like Kathy Greulich, pictured here, get to enjoy time with puppies like these, and help prepare them for eventual adoption. HHS provides all of the food and supplies needed. Fosterers provide the love and care that makes all the difference in these animals' lives.
With so many more animals coming through our doors, and some in need of extra care that only foster families can provide, now is the perfect time to consider becoming a fosterer. Visit our website for more information at https://www.hinsdalehumanesociety.org/volunteer/foster-care-program, or contact kelsey@hinsdalehumanesociety.org for more details.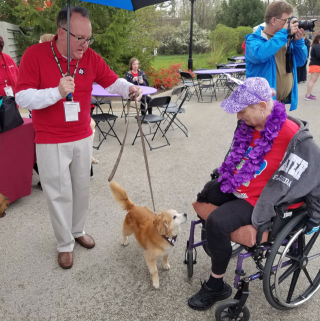 David Ore & Rico Suave (Pet Therapy Team)
Why HHS?
I was referred to HHS by fellow Therapy Dog handlers Jim and Karen Wierdak. The large draw was the depth of the Therapy Dog program at HHS. We really enjoy that our Team can work with medical professionals to assist patients at Paulson Pediatric with varying needs. We also enjoy the other programs where we participate - reading with children and teens as well as making school and hospital visits and participating in many special HHS events in the community.
Town: Elmhurst
Pets: Rico Suave
Volunteer since: November 2015
Volunteer jobs: READ and CARe programs; special events for Pet Partner Teams
Fun Fact: I could fly a glider alone (solo) before I could drive a car alone!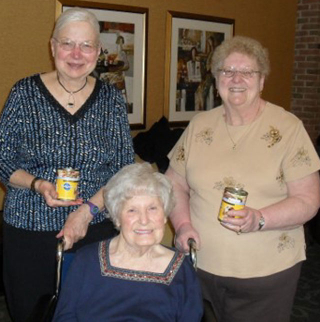 Caroline Johnston
Why HHS?
I belong to CSA (Czechoslovak Society of America) Fraternal Life. A number of years ago we had a national project initiative to serve a community organization. We chose the Hinsdale Humane Society as our organization. My son, Ken, and I liked it so much we stayed on as volunteers.
Town: Brookfield, IL
Pets: Cindy and Chelsea (Australian Shepherds) worked in the Pet a Pet Program, but sadly have crossed the Rainbow Bridge. I currently have Daisy who is an Australian Shepherd mix.
Volunteer since: 2010
Volunteer jobs: Pet a Pet (retired), Reception, Administrative Duties and special HHS Events
Fun Fact: Cindy and I loved to play frisbee together. Cindy was a great catcher!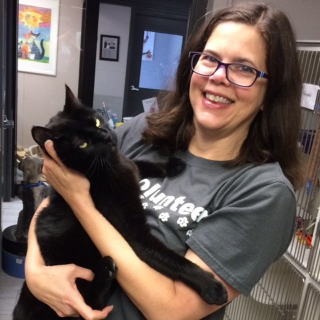 Julie Ludwig
Why HHS?
I'm glad to be doing something in my community and I love animals. I truly believe in this quote from Ghandi: "I hold that the more helpless the creature, the more entitled it is to protection by man from the cruelty of man." Helping pets find forever homes is so important.
Town: Hinsdale
Pets: Dorothy 14, and Hazel, 13. They were adopted from the Pulaski County Humane Society when we lived in Little Rock, AR. We celebrate both of their birthdays on Flag Day (June 14) since we don't know the actual dates.
Volunteer since: 2017
Volunteer jobs: I am a cat socializer and I help with opening procedures one day a week.
Fun Fact: I once rescued a cat that fell out of a tree! One summer night my husband and I were out for a walk. It was dark and we had just passed underneath a tree with branches hanging over the sidewalk. We heard a slight sound and I thought I saw something out of the corner of my eye. We both turned around and there was a kitten on the sidewalk behind us that wasn't there the second before. The kitten looked a little neglected so we brought him home with us and found him a new family - he lived like a king for the rest of his days with my Dad and family in Naperville.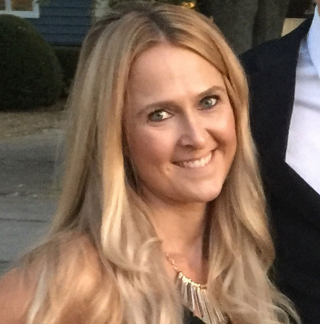 Kathy Lindstrom
Why HHS?
I adopted my cat, Oliver from HHS in December 2015. They took such good care of him I wanted to pay it forward.
Town: Darien
Pets: Oliver, an orange short hair cat
Volunteer since: January 2016
Volunteer jobs: Events and cat socializing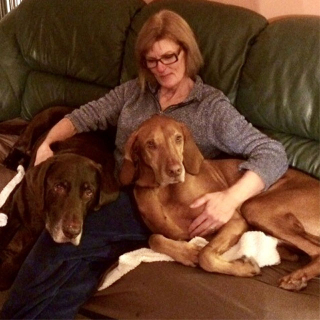 Kathy Greulich
Why HHS?
I started because I no longer had my own dogs, so I thought I could do something to help other animals in need. The people at HHS are awesome! They work so hard for so many animals. I truly appreciate the opportunity for my small part in this wonderful effort.
Town: Burr Ridge
Pets: We lost both of our senior dogs to different cancers in 2016. I do have two Granddogs: Buster and Hazel.
Volunteer since: September of 2017
Volunteer jobs: Closer on Thursdays. I also helped with Santa Paws, 2017. Looking forward to dog walking in the near future, and hopefully being a foster at some point.
Fun Fact: I loved doing agility with my Vizsla, Wrigley. I always thought he could have been really good, if I had been a little better at it!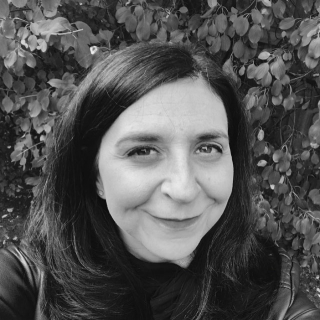 Aimee El-Zayaty
Why HHS?
I moved to Hinsdale in 2016 and immediately knew I wanted to continue working with an animal rescue organization. I previously had volunteered for over 7 years at another shelter. I loved the intimate feel of the staff and volunteer base and the mission of the organization. The amount of love these animals get is second to none.
Town: Hinsdale
Pets: Max (11 year old boxer lab mix), Mr. Smithers (3 year old long haired cat), and Sophie (a 3 year old DSH tabby). All three are foster failures from my last shelter.
Volunteer since: 2016
Volunteer jobs: Reception, Community Outreach, Special Events, Fostering mostly kittens
Fun Fact: Since I began working in animal rescue over 10 years ago, I have fostered 87 animals. People always ask if fostering is hard. Yes, sometimes it can be hard to let some of them go, but then I remember this number. 87. If I had kept the first few, I would have been too busy to foster again. Instead, I have helped 87 animals get into loving homes. My whole family is part of the fostering process. While I take on most of the poop duty, they help with everything else. My two teenage children have experienced puppies and kittens being born in our home, the loss of a sick animal that didn't respond to medication, and the difference a little bit of love can make in the life of an animal - all important life lessons.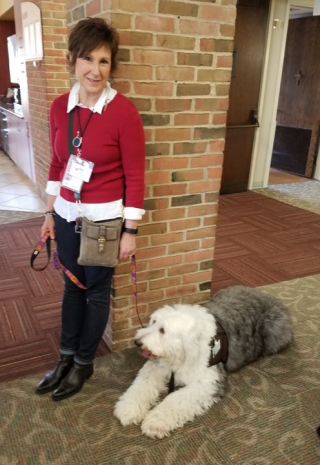 Ann Marie Casper
Why HHS?
Since the only dogs I have ever had in my life were toy poodles, when we finally decided on Lilly (an Old English Sheepdog) I knew that training was a must. We trained with a wonderful local group and most of the dogs were being trained to be service dogs. I thought we should be able to be helpful to others in some way too, and after having spent many hours visiting elderly family members in nursing facilities, I knew that Lilly and I should become a therapy team. Once Lilly and had completed the necessary steps with Pet Partners to become a therapy team, we joined up with the Hinsdale Humane Society since they have such an extensive outreach program in place.
Town: Hinsdale
Pets: We have Lilly, the Old English Sheepdog, and two cats, Rocky who we adopted from Anti Cruelty in Chicago as a kitten who is now 15 and Lucy who is 14 and was also adopted from the Hinsdale Humane Society also as a kitten.
Volunteer since: 2014
Volunteer jobs: Pet a Pet and CARe programs; special events for Pet Partner Teams
Fun Fact: When Lilly and I aren't "working" I enjoy traveling, playing tennis and gardening.