Teen Volunteer Opportunities
In an abundance of caution, all in-person Humane Education programs have been suspended until further notice.
Are you interested in learning more about animal welfare? Are you looking for ways to help us help the animals at the Pet Rescue and Resource Center? Our teen volunteers are generous, kind, open-minded, hardworking, welcoming, dedicated and diverse. If this sounds like you, look into our teen volunteer opportunities to find the one that's right for you.
All inquiries to Jen Gordon, Humane Education Manager: jen.gordon@hinsdalehumanesociety.org.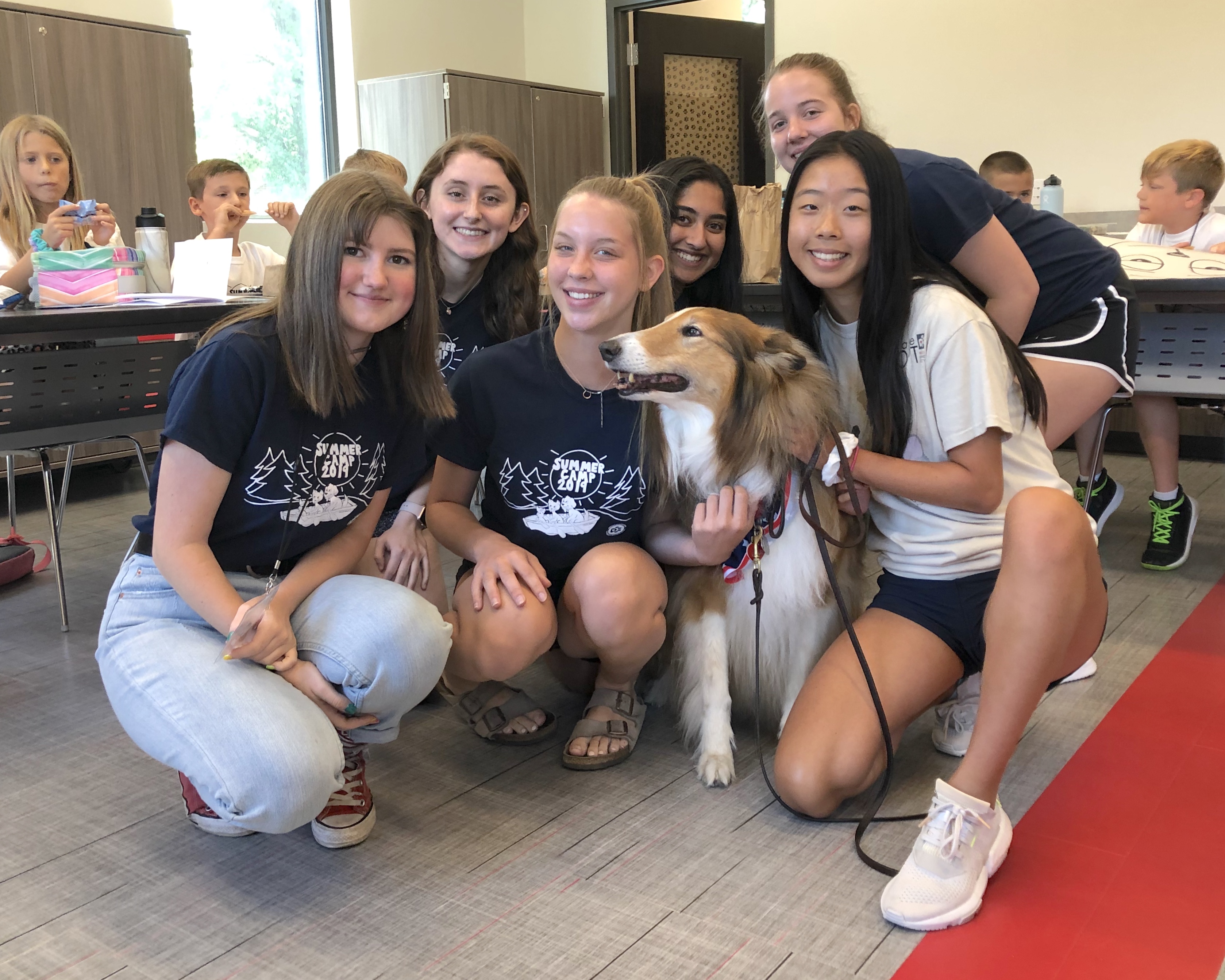 Teen Volunteer Corps
Teens 14-18 (currently enrolled in 8th-12th grade) assist with community outreach, fundraising events and humane education programs. Orientation, scheduled periodically throughout the year, is mandatory for all new teen volunteers who are serious about making a commitment to our animals and our mission. The Teen Volunteer Corps (TVC) requires a $25.00 volunteer fee and a minimum of 10 hours of service per year. TVC members help with fundraisers, help supervise groups visiting the PRRC, participate in parades and community events, and more. Volunteer opportunities and hours vary. Next Orientation to be scheduled late Jan/early Feb 2020. Please click here to complete our TVC Inquiry form to be invited to our next Orientation.
Junior Board
Members of our Teen Volunteer Corps will have the opportunity after completing a minimum of 10 hours of service in at least 2 different volunteer roles, to petition for a seat on our Junior Board if they would like to be more involved and take on a leadership role in planning and implementing programs and events for HHS. TVC members who have met these requirements will receive an invitation from the Jr Board to petition for membership. Our Jr Board has first priority in all volunteer opportunities and camp counselor positions. The Junior Board meets twice a month during the school year Sept-May. Members are required to hold a leadership position on the board, attend a minimum of 2/3 of all Jr Board meetings, and volunteer in at least 2 events or 1 week of summer camp each year to retain membership. Annual membership is renewable through August of their high school graduation year.
Summer Camp Counselors
Members of the Junior Board or Teen Volunteer Corps (TVC) who are rising sophomores 15+ through seniors have the opportunity to help as camp counselors. Camp counselors commit to a full week of summer camp. Hours vary depending upon camp session. To learn more about our camp offerings, visit our Summer Camp page.
Teenternships
A select number of teenternships are available for high school students 14+ looking for a regular schedule of 1-5 hours per week working in a specific department and reporting directly to a department manager. Teenternships are renewable, semester-long commitments. Teenterns are selected following an interview with our management staff. Teentern semesters are Sept-Dec, Jan-May, and June-Aug. Letters of introduction and inquiry for teentern applicants due by Jan 1st, for Spring, May 1st for Summer and August 1st for Fall. Current teenterns with favorable work histories will be offered teenternships in successive semesters, before any openings are announced. Active TVC and Jr Board members interested in a teenternship opening will take priority over new applicants. A $25 volunteer fee is required of all new volunteers.
Youth Volunteer Days
Teens looking for a single day volunteer opportunity for just a few hours to meet a specific requirement may check our website for our next Youth Volunteer Day. More information and interest form here.