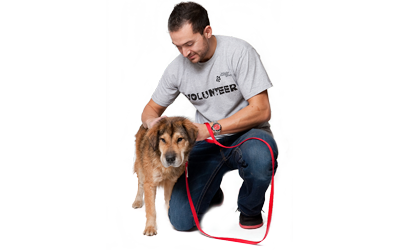 Volunteers at Hinsdale Humane Society are vital to our organization. With their help, we are able to continue our work, educating our community about animal welfare, and provide care, consistency, love and attention to our four legged friends until they find their forever homes.
We welcome fellow animal lovers and friends to join our special group of compassionate volunteers.
"When I volunteer, I feel so needed. Volunteering allows me to give the animals a chance to be loved, hugged, and cared for just for who they are. It's the part of my week I most look forward to."
Diane Novak,


Volunteer Dog Walker
Requirements to Volunteer
18 years of age to participate in any of our volunteer opportunities
Potential high school aged volunteers are welcome to join our Junior Board
Limited availability* for volunteers looking for short term service hours

Benefits of Volunteering
Spend time with animals
Spend time with other animal lovers
Contribute to your community
Career experience
Seasonal parties and gatherings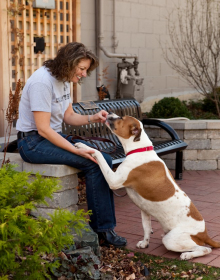 Steps to Become a Volunteer
Check our availability page for descriptions, requirements and time commitments involved with volunteer openings.

Once you have an idea of where your interests lie, please fill out our Volunteer Application. Be sure to give us your email and fill in the days and times you are available to volunteer. If we have an appropriate available opening, you will be sent our orientation information to complete, along with a link to a questionnaire to help find a suitable volunteer option.

Upon completion of the Orientation and submission of the Questionnaire, our Volunteer Coordinator will then contact you to set up a time to meet with you, give you a brief tour of the shelter and to collect the $25 application fee (the fee helps to cover the cost of training and your volunteer T-shirt) and to set up a time for additional training, depending on the availability of the volunteer opportunity in which you are interested.
*Specific opportunities and hours may be available for those looking for short term volunteering for school service projects or community service. Please email Kym Iffert, Volunteer Coordinator at volunteer@hinsdalehumanesociety.org with the number of hours you require, when hours need to be complete and the reason for your service.
Have more questions? Check out the Volunteer FAQ's.
Quick Links