Financial Help for Veterinary Care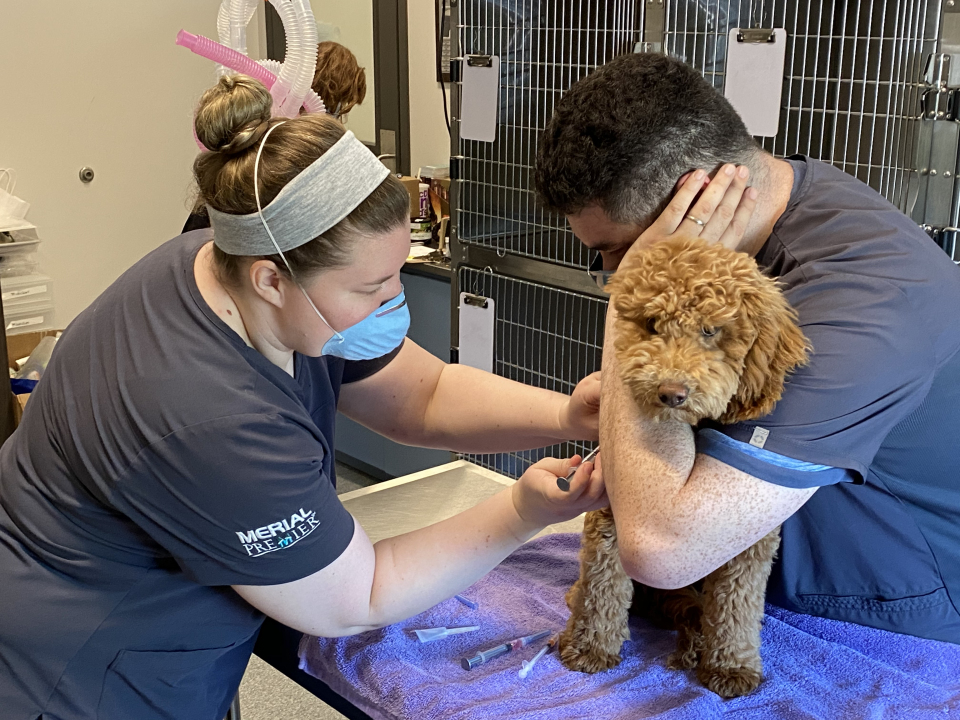 Following is a list of some organizations worth investigating for financial assistance for your pets. Some of these organizations have taken things a step further by posting their own researched lists of breed-specific and disease-specific financial-aid programs. (Most states also have assistance programs in place.) Become familiar now with what is available. If the day comes that your pet needs help, you will at least have a basic understanding of where to look for assistance.
Available through HHS is our Millstein Vaccination Program Low-Cost Clinic, providing vaccinations, microchipping, heartworm test & treatment, and more! More information can be found here.
The Big Hearts Fund (financial assistance for the diagnosis and treatment of canine and feline heart disease): bigheartsfund.org
The Binky Foundation: binkyfoundation.org
Brown Dog Foundation (prescription medications): browndogfoundation.org
Canine Cancer Awareness: caninecancerawareness.org
Cats In Crisis: catsincrisis.org
Consumers Advocate Best Pet Insurance: https://www.consumersadvocate.org/pet-insurance
Consumer Affairs Guide to Pet Insurance: https://www.consumeraffairs.com/pets/pet-insurance/
The Dog & Cat Cancer Fund: dccfund.org
Frankie's Friends is a non-profit foundation dedicated to finding cures and saving pets with cancer and other life-threatening conditions. https://www.frankiesfriends.org/#welcome
God's Creatures Ministry Veterinary Charity: www.all-creatures.org
Insurance Blog By Chris (IBBC): https://www.insuranceblogbychris.com/pet-insurance-benefits/
Live Like Roo, a volunteer-run 501C3 organization, provides support and financial assistance to families whose pet faces a cancer diagnosis. They pay bills for biopsies, amputations, medications, growth removals and much more. https://www.livelikeroo.org/
Magic Bullet Fund (cancer-specific): themagicbulletfund.org
Money Magazine Pet Insurance Resource Guide: https://money.com/best-pet-insurance/
The Mosby Fund: themosbyfoundation.org
My Pet Child: mypetchild.com
The Onyx & Breezy Foundation: onyxandbreezy.org
Paws 4 A Cure: paws4acure.org
Pet Food Bank: www.petco.com
Pet Food Stamps: petfoodstamps.org
The Pet Fund is a registered 501(c) 3 nonprofit organization that provides financial assistance to owners of domestic animals in the United States who need veterinary care. For instructions about applying for funding please click here: thepetfund.com
Pets of the Homeless (pet food and veterinary care assistance for homeless): www.petsofthehomeless.org
The RedRover Relief Urgent Care grant program provides financial assistance, resources, and emotional support for pet guardians struggling with economic hardship when pets are in life-threatening situations. The average grant is around $250, and is intended to fill a small gap in funding that is keeping an animal from care. https://redrover.org/relief/urgent-care-grants/
Rose's Fund: rosesfund.org
Shakespeare Animal Fund: www.shakespeareanimalfund.org
Spay Illinois - Low Cost Pet Care: https://www.spayillinois.org/
Top Dog Foundation "Bentley Grant": topdogfoundation.org
This Old House - Best Pet Insurance Companies 2021: https://www.thisoldhouse.com/pets/22409250/best-pet-insurance
Some dog breed-specific veterinary care assistance programs:
CorgiAid: corgiaid.org
Special Needs Dobermans: doberman911.org
Westimed (West Highland White Terriers): westiemed.org
Pyramedic Trust (Great Pyrenees): http://www.angelfire.com/bc2/pyramedic/summary.html
Veterinary care assistance for working/service dogs:
Helping Harley Cancer Treatment Grant: http://grants.landofpuregold.com