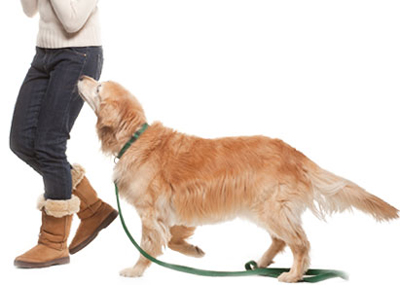 Class registration for each session starts 6 weeks prior to the start of class.
Basic Obedience class, 7 week sessions:
September 8 - October 20
October 27 - December 15
Spring Dates TBD
Puppy PreSchool classes feature rolling enrollment from:
Sept 9 - Dec 9
Jan 6 - June 2
See details of each class below. The goal of our classes is to foster a strong, positive bond between dogs and their owners. Through the class, we strive to promote humane education, responsible pet care, and dog training based on positive motivation.
While we offer rolling enrollment for the puppy class, all animals, regardless of class option, need to be registered BEFORE coming to class. For more information, contact us at 630-323-5637 or info@hinsdalehumanesociety.org. All classes run from September through May.

HHS Puppy Pre School
Start your puppy out right by focusing on the behaviors you want, rather than struggling with what naturally comes to our 4-legged friends. A 6 week open enrollment class introduces your puppy to safe socialization with people, household manners, proper handling techniques, focused attention and basic obedience commands while safely interacting with other dogs both on and off leash. This fun, interactive class will help you understand and successfully navigate typical puppy problems including puppy nipping, housebreaking and crate training as well as proper health and nutrition and exercise needs.
Requirements: Puppies must be 8-14 weeks at the start of class and have proof of current vaccinations & deworming.
Dates: Friday Mornings, 10:00 - 10:45am
Price: $150 - If you sign up within 5 days of adoption, you will receive a $25 refund after completion of the course.
HHS Basic Obedience Class
Dogs 4 months and Older
$125 for 7 Week Session - If you sign up within 5 days of adoption, you will receive a $25 refund after completion of the course.
Thursday evening and Friday morning classes are available.
This class teaches basic obedience commands and good dog behavior using positive motivation techniques. You will learn how to communicate better with your dog, resulting in a stronger, more positive bond. The class covers topics including:
Sit
Stay
Come
Greet without jumping up
Housebreaking
Controlled walk on a leash
Releasing toys and food
Responsible pet care
The class is open to all dogs adopted from HHS and non-aggressive dogs from the community. Proof of current rabies vaccination is required. Family members over the age of 5 are welcome and encouraged to attend. If your dog is under 4 months, we recommend a puppy kindergarten as a prerequisite.