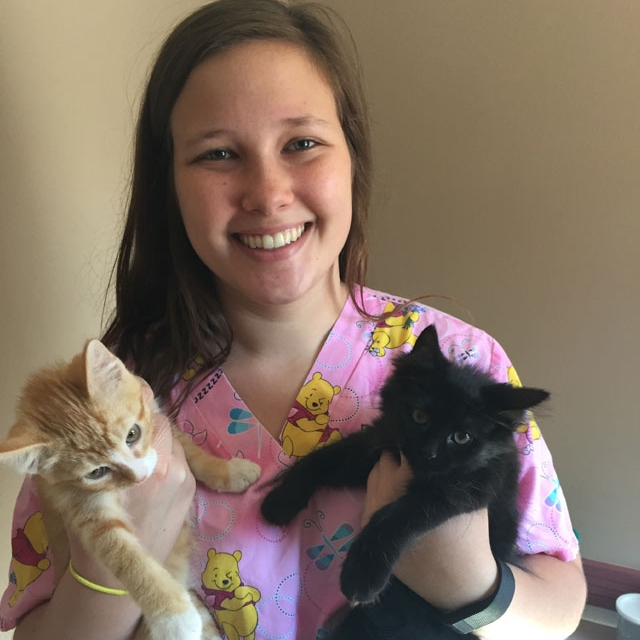 The Hinsdale Humane Society offers two internship programs for those interested in working with animals and/or those interested in a veterinary medicine career, and one internship for those looking to intern in the areas of Marketing and Special Events. Find details below.
---
Dr. Robert Reschke Internship Program
In the Dr. Robert Reschke Internship Program, college undergraduates work alongside shelter staff and volunteer veterinarians to gain valuable, hands-on experience including:
Performing preliminary physical exams
Administering vaccinations
Administering medication to ill animals
Assessing animal temperament and behavior
Handling difficult animals
Counseling prospective and current pet owners
Offering solutions to behavioral problems
Interns work 40 hours a week, including weekends, for 3 months. Upon completion of the internship, $1,500 is awarded.
Applications will be accepted starting Spring, 2020. For more information contact Dr. Kristin Tvrdik, DVM, Medical Director for HHS.
---
Jordan Crist Memorial Externship Program
The Jordan Crist Memorial Externship Program is named in memory of an exceptional young man who truly cared for the well-being of animals. In this program, veterinary students work:
Alongside staff at the West Suburban Veterinary Associates to gain valuable, hands-on experience with advanced medical equipment, such as digital radiography, ultra-sound, laser, digital dental radiography, and laparoscope.
One day a week at Hinsdale Humane Society to learn breed identification, behavior counseling, animal handling skills, temperament assessment, and customer service skills.
This paid externship lasts six weeks. Upon completion of the externship, $1000 is awarded. For more information or to apply, please contact Janet Storjohann at West Suburban Veterinary Associates at 630-968-4212 or jstorjohann@westsuburbanvet.com.
---
Marketing / Special Events Internship
POSITION
Summer. Approximately 3 months, 20 hours per week. A few potential evenings and weekends required. For students who have completed sophomore or junior year of college.
JOB DESCRIPTION
The Internship will offer experience in marketing, graphic design, communications, special events planning, media relations and fundraising. The Intern will work with staff and volunteers on exciting, high profile events and projects, and will learn about the inner workings of our non-profit animal welfare organization.
Create marketing materials and graphics as needed
Assist with our printed magazine and all electronic communications
Assist with implementation of various marketing communications plans
Write media releases and work with media
Assist in video shoots
Proofread various materials
Take photographs for marketing purposes
Support various summer events, including our Pet Walk Festival
Help plan our fall fundraiser
Other general clerical duties required as they apply
COMPENSATION
If applicable, credit hours will be allocated according to your University standards. Upon completion of the internship, a $1,000 scholarship is awarded.
REQUIREMENTS
Demonstrated proven leadership skills
Professional demeanor
Attention to detail
Excellent written and verbal communication skills
Strong graphic design ability
Excellent organizational skills
Excellent follow through skills
Proficiency in Google Docs, Slides and Sheets, and Adobe products: InDesign, Illustrator, etc.
To apply, please submit resume and letter of introduction to pr@hinsdalehumanesociety.org. Application deadline is April 1, 2019.