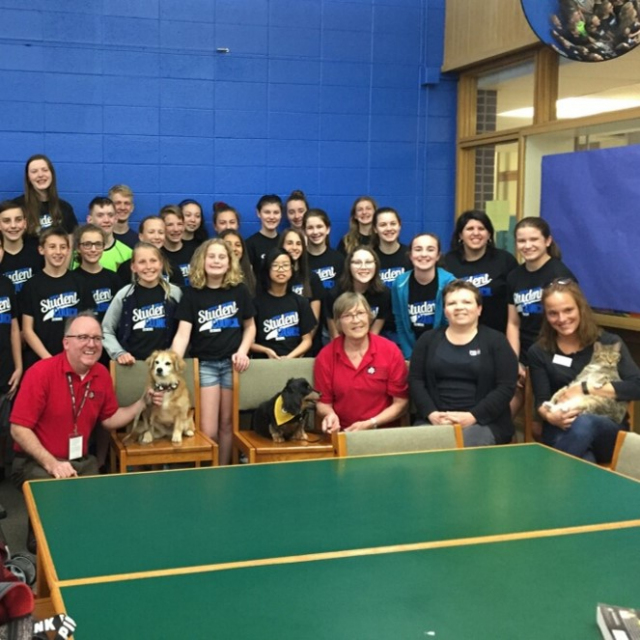 Our Humane Education program is sponsored by Klepacki & Blair Orthodontics.
In an abundance of caution, all in-person Humane Education programs have been suspended until further notice.
You're never too young or too old to learn something new! Descriptions of our offerings are below. Please complete the form at the bottom of the page and our Humane Educator will contact you to discuss details and make arrangements. Requests and reservations can be made up to one year in advance and are scheduled based on availability.
Field Trips
Looking for a unique field trip for you class? Bring your students PreK-12th grade to visit out Pet Rescue & Resource Center. Receive a guided tour of our facility, learn about our history, mission and community programs and meet our adoptable pets. We have space in our Humane Education Center to add a presentation or workshop and room for your kids to have lunch or a snack.
Duration 45 min-2 hours depending on activities scheduled.
School Visits PreK-12
Can't bring your class to us? Our Humane Education presentations can be brought to local area public and private schools. Learners as young as 2 years can benefit from learning about the core needs shared by people and animals and how to be safe around animals, especially pets.
Duration 25 min - 1 hour depending on topic and audience.
Presentations & Workshops
Onsite and Offsite Humane Education presentations and workshops are available for your school, community group, organization or workplace. Topics include Pet Care & Responsible Pet Ownership, Dog Safety, Learning Cat & Dog Body Language, Animal Welfare Issues, Pet Therapy and More! Presentations and Hands-On Workshops are designed and geared for the age, interests, and needs of the audience.
Duration 25 min - 1 hour depending on topic and audience.
Tours
Bring your group in for a guided tour of our Pet Rescue & Resource Center. Visit and learn for yourself what the first humane society in DuPage County has accomplished since 1953 and our continued work as a leader in animal welfare, education, and adoption.
Duration 30 min
Our Humane Education Program is sponsored by: