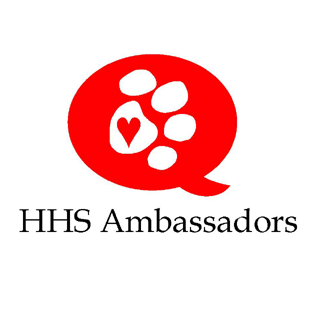 Hinsdale Humane Society Ambassador Membership Application
The Ambassadors are a group of enterprising women helping to raise awareness of HHS through social media, community outreach and silent auction donation gathering. So many lives have been positively impacted through the pet therapy programs, obedience classes, youth educational opportunities and a variety of other services available through HHS. Since their founding in 2014, the Ambassadors have been instrumental in helping spread the word to a wide audience by lending their expertise and creativity to a variety of fundraisers.
Thank you for your interest in the HHS Ambassador Program!
Ambassador Expectations
1 year commitment with renewal each spring
Select at least one event to lend your expertise to such as Pet Walk & Run, Howl-o-ween Ball or others as they arise. Various levels of involvement are available so you can find the capacity that best suits your skills and interests, whether that be social media, publicity, marketing, community outreach or silent auction decor, donation and solicitation ideas. Share our main events via social media (Instagram, Facebook, Pinterest).

A Social media kit will be emailed to you that will include high res logos, sample copy, and, as needed, the Chairperson of each event will email you directly with specific copy and/or alert you to what has already been posted so you may share the post.

Yard sign placement for Pet Walk & Run and Howl-o-ween Ball; please do NOT throw these out. They will be put up by a volunteer (you can help with that!) and then collected within 3 days after the event.
Purchase 2 tickets to the Howl-o-ween Ball.
For Howl-o-ween Ball, donate or put the Chairperson in direct contact with no less than three (3) silent auction leads or a lead for a sponsorship.
Try to attend both Sip and See events which are informal get-togethers at Ambassador Chair Mistie Lucht's house to meet and greet other Ambassadors and receive a very informal update on HHS's plans. Firm dates are TBD but they will occur in Spring and late Summer.
Follow and join the "secret" Ambassador Facebook page for updates and information. This is the easiest and fastest way we can communicate via social media about all the amazing events we have planned for the year!
Benefits of being an Ambassador!
"In the know" about HHS long-term and fundraising plans.
Be part of an exciting year with new opportunities, social media campaign themes and growth.
Featured on the HHS website.
Know you are helping animals that cannot speak for themselves. HHS is not a sad place, rather a place of safety, hope and love. These animals have been rescued and await their forever homes. BUT we cannot do it without you and the entire HHS staff and volunteer teams making this a reality.