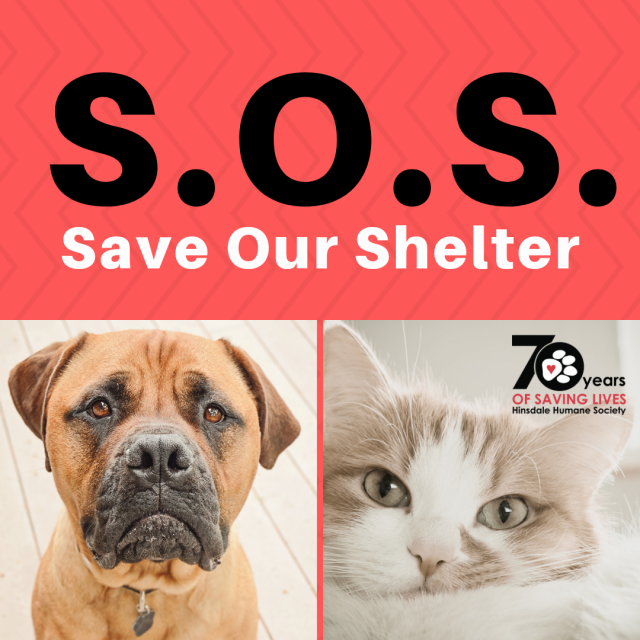 We hope the alarming headline grabbed your attention, and yes, you read that right. We need to let you know what Hinsdale Humane Society (HHS) is up against.

Because we receive no government funding and have no endowments, we rely overwhelmingly on donations from businesses, supporters and friends like you, in order to keep our doors open. Over the past year, donations to us have substantially diminished and we are experiencing severe financial difficulty.

We urgently need your help.

Animal welfare is in crisis and HHS is at the epicenter. During COVID, an estimated 3 million spay/neuter surgeries did not occur. Litters of puppies and kittens are showing up on our doorstep daily. We are over capacity and cannot continue to save lives and carry on without your donations.

It's true, our larger facility allows us to help more than 1600 animals annually (up from 1000 at our old, smaller shelter). It allows us to provide robust community programming and resources that help others. It also enables us to have an incredible veterinarian on staff — Dr. Kristin Tvrdik. She alone performs 3,000 spay/neuters annually for HHS and local shelters in need. But, all of this comes at a high cost.
Adoption fees and our community programming and services revenue don't come close to covering the expense of caring for all of the animals that need us. We have cut our costs and are running as lean as possible, but are unable to keep up with all that is coming at us.
HHS and the communities we serve need your help now more than ever. Please donate today.

You can make a difference in the lives of the people and pets we support. Any size donation will help.

Be a part of the vital community that contributes to our "S.O.S. Save Our Shelter" campaign. Recognition and naming opportunities are available. Please contact our Executive Director, Jacki Rossi at Jacki.Rossi@hinsdalehumanesociety.org or at 630-323-5630 x12.
Sincerely,
The Entire Board of Directors and Staff at Hinsdale Humane Society
S.O.S. Save Our Shelter
"We are all stronger together and success lies in our shared purpose."