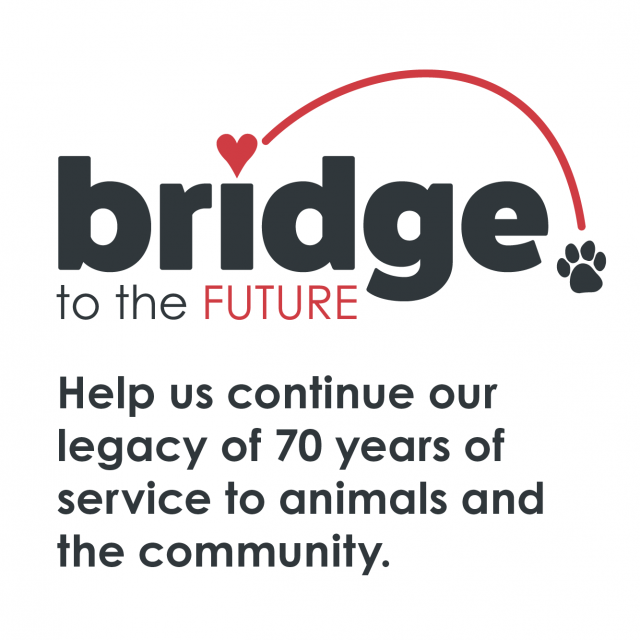 Help us continue our legacy of 70 years of service to animals and the communities we serve by donating to our Bridge to the Future campaign. A generous donor has offered a $100,000 match if we can reach this donation goal!
With a minimum $250 contribution, you'll help us build a Bridge to the Future at Hinsdale Humane Society and receive a paw print in the lobby proudly displaying your name. There are small, medium, and large paw prints available.
Every day at Hinsdale Humane Society, our team works tirelessly to provide a safe haven for animals in need. With your support, we have been able to transform the lives of countless animals and create a brighter tomorrow.
Our Growth
The needs of the community have grown immensely over the last 70 years, and we have grown to accommodate and serve those animals in need. In our early years, we adopted out just over 200 animals per year. Since then, our capacity has grown nearly threefold, and we now boast an impressive capability of providing a safe and comfortable environment for more than 50 dogs and 100 cats at any one time, allowing us to adopt out close to 2000 animals annually.
Our larger facility, which we moved into in 2018, has been a game-changer. It has enabled us to welcome more animals, expand our programs and services, and ultimately save more lives. Since our move, adoptions have soared, reflecting the growing impact of our efforts.
With your help, we can create a Bridge to the Future and continue our legacy of 70 years of service to animals and the communities we serve. Join us today and make your mark on the future of animal welfare!
Questions?
Contact Kathy Hanley at k.hanley@hinsdalehumanesociety.org or call 630-323-5630 ext. 32.