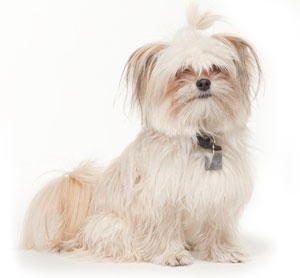 Zoe is the shelter spokes dog and family pet of Lori Halligan, HHS Executive Director. Zoe shares thoughts about life, love, and the pursuit of forever homes for our shelter animals.
Thanksgiving!
Thanksgiving is upon us! It really is one of my favorite holidays. I don't know why some people need an actual day to remind them to be thankful. Being thankful is easy! The animals at the shelter are thankful for the staff members who tend to their needs. The staff members are thankful to the volunteers who give so unselfishly of their time. The people who adopt the dogs and cats from Hinsdale Humane Society are thankful for their new furry family members. It's just one big, happy THANK YOU after THANK YOU!
I'm thankful all the time. I'm thankful my family feeds me and takes care of me and takes me for walks and lets me sleep in their bed. Mostly, I'm thankful I have a home with people who love me.
So in honor of Thanksgiving, I've written a little song I'm dedicating to all the previously homeless pets and to all the wonderful people who have adopted them (in the style of the 1915 classic and with apologies to MOTHER).
T is for the TOYS and TREATS you gave me.
H is for the HUGS you give so well.
A is for ADOPTING me and giving me a home.
N is for happy NEW beginnings
K is for KISSES and affection.
S is for SHARING unconditional love.
G, you really GIVE my life new meaning.
I know I'M so lucky to be yours.
V is for taking me to the VETERINARIAN.
I know IT'S really for my own darn good!
N is because I will NEVER ever leave you.
G, it's GOOD to finally finish my song.
Put them all together they spell Thanksgiving, a word that means the world to me.
Thanksgiving. Giving thanks. Which is what I am doing now.
Thank you, thank you for the LOVE you gave me.
Don't you think that word should have an "L"?
I love you. I thank you. You're so swell.
Put them altogether they spell Thanksgiving.
Wishing you a Happy one as well!
Until next time.
Love, Zoe
Unconditional Love
"As corny as it may sound, I wish more people would realize that allowing ourselves to be unconditionally loved by a pet actually makes us all better human beings."
~Lori Halligan
That's exactly what my mom said to a newspaper reporter last week. By the way, the "pet" in that sentence is ME! I take this job very seriously. I'm great at the unconditional love part. And I DO make her a better human being… even if I'm not very modest about it!
So here are some of the things I do to assist my mom in improving herself.
Getting up in the morning: Sometimes she'd much rather hit the snooze button instead of getting out of bed. But in the morning, I'm rather frantic to get outside and take care of... you know… business! I'll let her sleep for about two extra minutes. Then I help her wake up by jumping on her tummy or wagging my tail in her face. There's nothing like a desperate doggie alarm clock to get you moving in the morning! I start her day with laughter instead of groggy grumpiness!
Walking: If it weren't for me, my mom would come up with every excuse in the book about why she can't go for a walk. It's too cold or she's tired or she's too busy or blah, blah, blah. Excuses! Doesn't she know that once you get moving, the walking part is a piece of cake or in my case, it's a doggie cookie!
Snuggling: I'm the best snuggler around. AND I'm sweet and cuddly. Rolling over on my back for tummy rubs has a certain "cute" factor that is irresistible. Petting my fur makes her relax. When my dad is traveling on business trips and my brother is away at college, I keep my mom from getting lonely. What would she do without me?
Helping at the office: Perhaps you did not know that I sometimes assist my mom at the office. I write my dog blog, sniff the mail, greet the volunteers and collect extra dog biscuits that would otherwise get stale. I tell all the dogs and cats to look adorable and stay at the front of their cages so the adopters will get to know them better. I lend her a "paw" so she can get her work done faster and better.
Giving unconditional love: I don't care if mom put on a few extra pounds from all the cookies she ate over the holidays. I don't complain if she gets home late from the office (as long as she remembers to feed me!) Even if she's irritable and she had a bad day, I'll give her my undivided attention. Also, I don't criticize her wardrobe. (Seriously, have you seen some of her shoes?! I'm doing her a favor when I ruin them with my absent-minded chewing!)
Daily, I remind my mom she is worthy of my love and devotion. There's a saying that goes "I want to be the kind of person my dog thinks I am."
I think my mom is wonderfully special. I'll bet your pet thinks that about you, too!