Kitten Shower & Cat Cafes!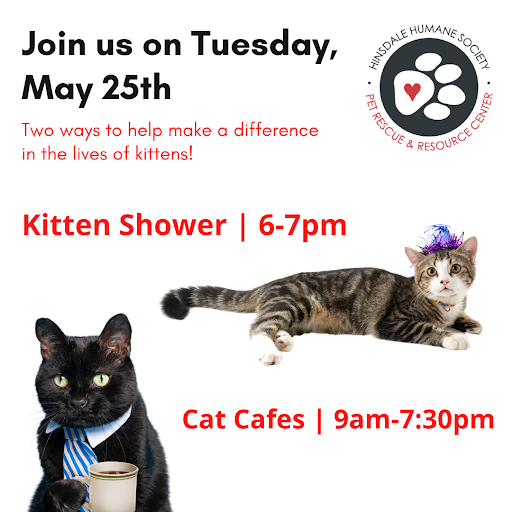 Join us on Tuesday, May 25th . Two ways to help make a difference in the lives of kittens!
Virtual Kitten Shower | 6:00 - 7:00pm
Kitten season at the Pet Rescue & Resource Center officially kicks off on Tuesday, May 25th with a Facebook and Instagram live stream of our 2021 virtual kitten shower. Join us for the fun of watching the babies play and socialize. Learn about kitten season, the importance of spaying/neutering, our Foster program, helping your new kitten adapt in their new home, and how you can help make a difference!
The kitten season supply drive will run from May 25 to June 8. Visit our Wish List page for details on how you can help!
Cat Cafes | 9:00am - 7:30pm
We will also be bringing back our cat cafes in a safe, socially distanced manner. Guests are invited to attend a morning, afternoon, or evening cafe socializing with shelter cats and kittens in our Elinor & Jake Brickman Education Center. Beverages and pre packaged snacks will be provided.
A $10 registration fee goes to help with the care of our resident felines.
Mask are required. 10 - 15 attendees max per session. Register below.
Morning Cat Cafe | coffee and muffins | 9:00 - 10:00am OR 10:30 - 11:30am
Afternoon Cat Cafe | tea and banana bread | Noon - 1:00pm OR 1:30 - 2:30pm
Evening Cat Cafe | LaCroix and cupcake | 5:00 - 6:00pm OR 6:30 - 7:30pm