Help Harley Win at Losing Weight!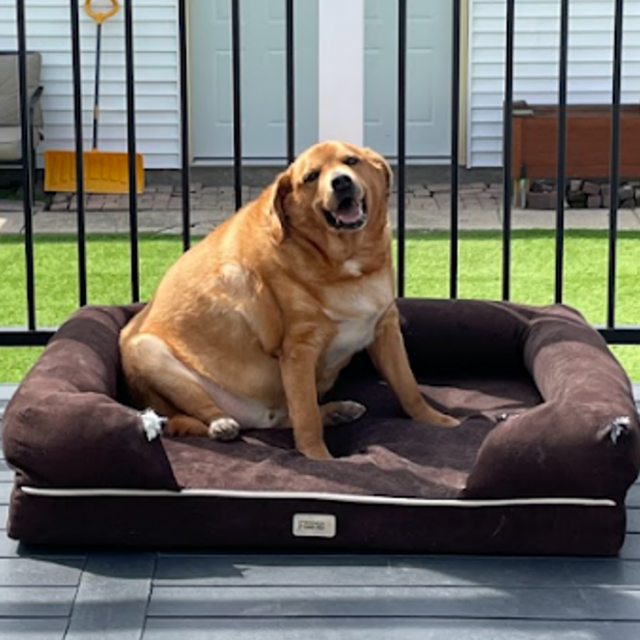 This extremely handsome 7-year old Retriever mix dog weighed in at 109 lbs. We share progress updates every Thursday on our social media, so be sure to check those out.
Let's all come together to help Harley on his weight-loss journey. Donate today and you could meet Harley, be photographed with him, or receive a special package from him. Here's how:
Make a donation of any amount in Harley's name on our Facebook Fundraiser page —OR— donate through our website here: https://www.hinsdalehumanesociety.org/donate.
On our Facebook fundraiser leave a comment with the weight you believe Harley will be by June 23rd—OR—if donating through our website, choose Medical in the Donation Use field and include your guess at Harley's final weight in the Donation Note field.
A random drawing of all donors will be held on June 23rd at 5pm CST to determine which lucky donor will win either:
A meeting and photo opp with Harley (for donors in the Chicagoland area) —OR—
A personalized care package from Harley with an autographed photo and a custom canvas painting created by him.
Harley Facts
He is a 7-year old Retriever mix.
He has hypothyroidism and is on medication under the care of Hinsdale Humane Society's Dr. Kristin Tvrdik.
His starting weight was 109 lbs.
He is on a special diet of Just Food For Dogs Lamb & Brown Rice recipe.
Symptoms of his obesity include:

Excessive panting
Feeling hot
Out of breath
He has to lay down to eat
Harley is currently living in a foster home and will not be available for adoption until he is at a manageable weight.
We're rooting for Harley and we know you are too. Join us on his journey to a healthier weight and happier life, and donate today to help Harley win at losing weight!