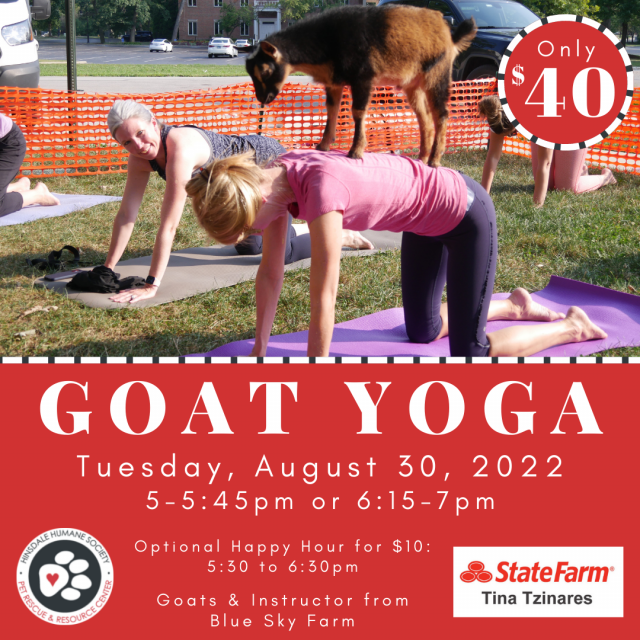 HAPPY HOUR SPOTS ARE STILL AVAILABLE! YOU CAN VIEW THE GOATS AND ENJOY HAPPY HOUR. PLEASE WATCH FOR SPOTS TO OPEN - FIRST COME FIRST SERVED!
Session 1: 5 to 5:45 pm
Happy Hour: 5:30 to 6:30pm
Session 2: 6:15 to 7pm
Goat Yoga: $40 | Happy Hour: $10
All sessions and Happy Hour will be held at the Tuthill Family Pet Rescue & Resource Center operated by Hinsdale Humane Society on our front lawn (Happy Hour will take place inside our facility) at 21 Salt Creek Lane in Hinsdale, IL.
Class instructors and baby goats will be provided by Blue Sky Farm. We'll have 30 minutes of Yoga and 15 minutes of photo opportunities and a Happy Hour between sessions! Attendance will not exceed 20 per session.
On the day of the event, please check in at the table outside of our front doors before entering the Goat Yoga area. Please arrive 15 minutes early to complete a release form.
Sponsored by State Farm - Tina Tzinares.