Safety & Well Being During the COVID19 Crisis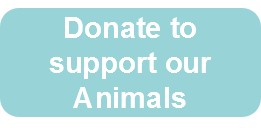 Amidst the chaos and confusion of COVID-19, we're looking for the bright side wherever we can. Our animals are safe and happy and we are doing all we can to continue to serve the community during this crisis.
We have a Task Force coming up with adjustments to our processes and procedures to best protect our visitors, our volunteers and staff, and of course, our animals, should there be an outbreak in our area. Since information is being updated daily, our Board and staff are monitoring recommendations from state and local officials.
We've been here for the animals since 1953, and their care will not be disrupted. Just as they need us, as always, we need you. With markets crashing and quarantines happening around us, we will be faced with fundraising and adoption shortfalls. More than ever, your support will help us help the animals. Please consider donating to their care in the coming weeks.

Meanwhile, we'll be here, watching over them. We'll be modifying our Humane Education and Therapaws Pet Therapy programming to keep public safety at the forefront. We'll be washing our hands and disinfecting our facility. And we'll ensure our animals are safe, loved and busy with lots of enrichment activities while they wait for adopters.
We encourage you to have a plan in place for your pets if someone in the household becomes ill.
Have crates, food and extra supplies on hand for quick movement of pets.
Keep all animal vaccines up to date in the event boarding becomes necessary.
Ensure all medications are documented with dosages and administering directions.
Ensure your pet has identification: a collar with ID tag and/or microchip.
We'll share updates, tips and other relevant news, as well as process and procedure updates as we have them. Please contact us with questions, keep yourselves safe, and know we will continue to ensure the well-being of all of the animals in need of help.
Links to provide deeper insights into pet safety and concerns: