Caring for the Females in our Lives
Here at HHS, we proudly celebrate our female animal population every day, but especially this March in honor of International Women's Day (March 8th). All of our female animals are guaranteed the same spay, medical exam, and tender care and love from us as usual, but if any issues arise, we will be there for them while they await their new loving homes.
Sometimes we get some special ladies into our shelter: mamas! Being a mama pet can sometimes mean a longer wait to find a home. Because puppies and kittens are typically adopted more quickly, moms are often left in overcrowded shelters where it is difficult to tend to their medical needs. We live by the philosophy of 'No Mamas Left Behind', meaning we are committed to keeping mamas with their babies until all are healthy and ready to find their happily ever after.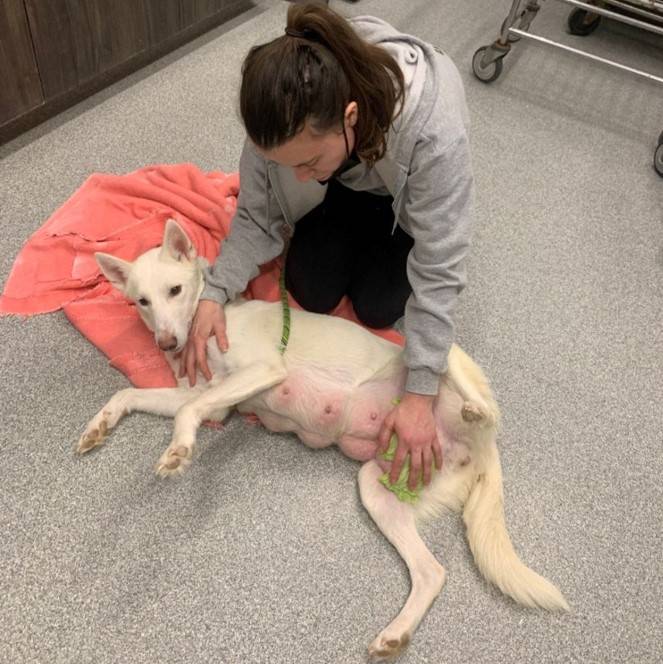 Often, mama animals can need extra medical attention while they are with us. Nursing mother animals, like humans, can suffer from mastitis, which is the inflammation of the mammary glands. This condition can affect both cats and dogs, and it isn't uncommon to see in animal welfare. Most animals with mastitis can be treated with oral antibiotics and pain medications, but sometimes we have to resort to odd methods to provide our animals with comfort. We applied cabbage leaves to Natasha to calm the inflammation and reduce her pain, while May preferred a cooling mat over cabbage. Either way, we want our mamas to be as comfortable as possible!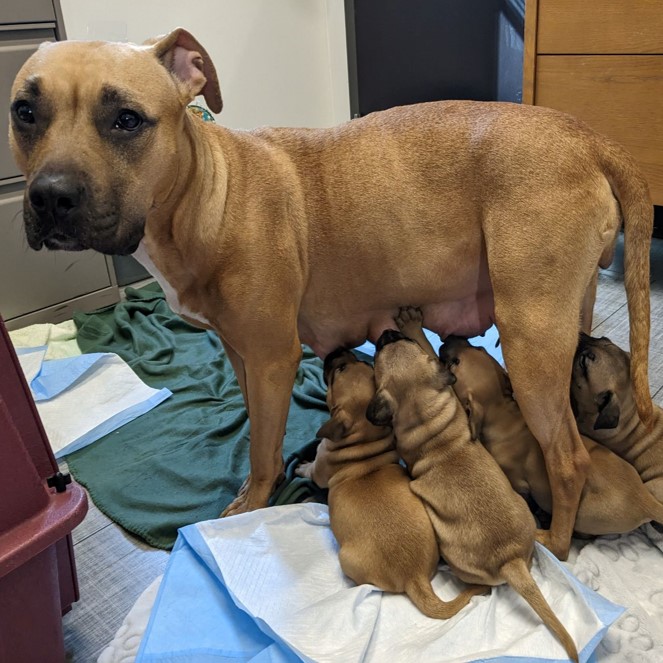 We currently have a few mamas in our care. One is part of a sweet pair of bonded female dogs available for adoption: Annabelle and Harlee*. While they may not look it, these two are a mom and daughter pair. Annabelle loves her only baby and Harlee loves her mama, so they are looking for a forever home together. Another is a mixed breed mama named Nola and her six baby boys (pictured here). Nola and her pups are currently spending time in a foster home to get big and strong before going up for adoption. Moon and Star are another bonded mom and daughter pair, while Nala is a mom whose kitties were all adopted quickly while she still waits for her forever family. We are committed to being there, not only for the babies, but for the mamas too.
Beautiful girls like these are the reason that we are dedicating March to our ladies. In celebration of International Women's Day, our HHS Junior Board is fundraising for our female animals, as well as for the women at Sarah's Inn, which offers comprehensive domestic violence support and services.
Sarah's Inn was founded in 1980 by a group of concerned women in River Forest and Oak Park, to address a lack of services for victims of domestic violence and their families. The agency has since grown to become one of the largest and most comprehensive domestic violence agencies serving Chicago and 22 surrounding West Cook County suburban communities. Sarah's Inn provides comprehensive services for families affected by domestic violence, to help them get the support they need to find safety, rebuild their lives, and heal.
Please help by donating to our animals at Hinsdale Humane Society and/or donating supplies to Sarah's Inn from March 1 - 15, 2023. Let's honor all females, celebrate them, and support these worthy causes for International Women's Day. Together we are strong, and together we can make a difference.
*Update: Harlee and Annabelle have been adopted!