Adoption Process and Fees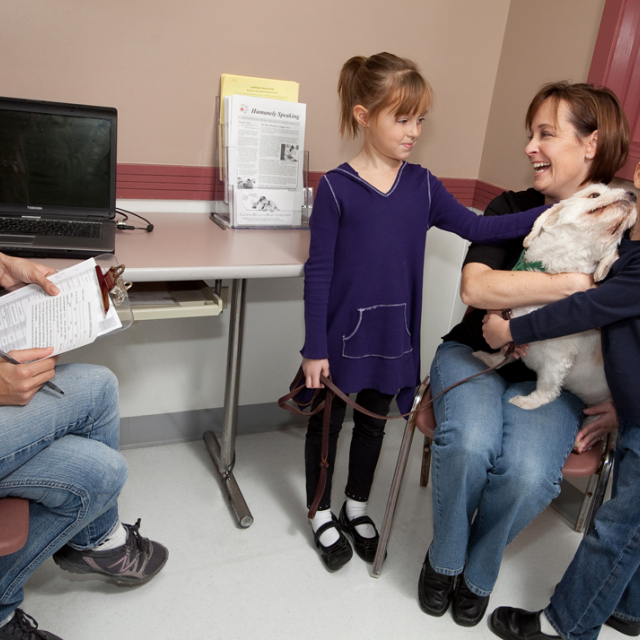 How to Adopt an Animal from HHS
Each year hundreds of homeless animals are united with caring adopters at Hinsdale Humane Society. Our goal is to make appropriate, permanent, matches between adopters and our shelter animals. Our staff members are trained to help families find just the right animal for their needs.
Adoption Process
We invite you begin your search for a loving pet. Please visit our Online Adoption Application page for instructions and details.
Additional Information
Completing an application does not place a "hold" on the animal, nor is it a guarantee of adoption. All customers are handled on a "first come, first served" basis. We look forward to speaking with you to help you find your next furry family member!
Adoption Fees
Fees vary depending on factors such as breed, age, size, behavior, and physical condition. Please check the animal's individual Adoption page for details.
Each Adoption Includes:
Dogs:
Pet Adoption Kit including your Adoption Contract and pet care literature
General health exam
Inoculation against distemper and other canine diseases
De-worming
Flea/ear mite treatment, if applicable
Heartworm test for dogs 6 months of age or older
Heartworm preventative while at HHS (April through November)
Microchip
Lifetime ID tag (on HHS registry)
Free medical exam at participating veterinary clinic
Cats:
Pet Adoption Kit including your Adoption Contract and pet care literature
General health exam
Inoculation against distemper and other feline diseases
De-worming
Feline leukemia/FIV tests for cats 6 months of age or older
Flea/ear mite treatment, if applicable
Microchip
Lifetime ID tag (on HHS registry)
Safety collar
Cardboard cat carrier
Free medical exam at participating veterinary clinic
Quick Links