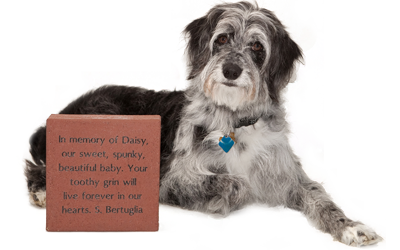 Become a part of Hinsdale Humane Society History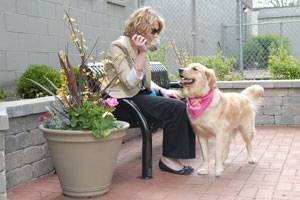 Please consider becoming a part of a very special limited time commemorative opportunity: The Carla E. Fisher Memorial Garden at the Pet Rescue and Resource Center operated by Hinsdale Humane Society.
We chose to dedicate our garden to Carla, in recognition of her dedication to the Hinsdale Humane Society and her passion for all animals. Ms. Fisher was an obedience instructor at HHS for many years. She was considered a friend, a mentor, an ambassador and an educator.
The Memorial Garden is a beautiful, serene area of the shelter, featuring shrubs, plants, benches and a custom brick patio. This peaceful location serves as a space for our pets and volunteers to unwind after a long walk, exercise or play time outside of the kennels.
Today, the garden is filled with loving words in honor of pets and people and is an inspiring place to visit. We invite you to purchase one of the customized, laser-engraved patio bricks, that will be added to the Carla E. Fisher Memorial Garden. Become a permanent part of our history! In years to come, you will be able to bring your children and grandchildren to view your legacy, all while helping homeless animals.
2019 Memorial Brick Ceremony and Pet Blessing
Saturday, May 19th
2:00 pm
Pet Rescue & Resource Center
21 Salt Creek Lane
Hinsdale, IL 60521
Please join us as we remember our cherished pets and loved ones. This is a free outdoor event.
If you have any questions, please call 630-323-5630 x32.
Information about our 2019 Memorial Brick Program is coming late May. Please check back soon.
We would like say a special thank you to Jim Cirrincione and the team at Hinsdale Nurseries for their generous donation of all the landscaping and sprinkler system for our new Pet Rescue & Resource Center.
In addition, several Hinsdale Nurseries employees volunteered their skills and many hours over the winter season. We are extremely grateful to Hinsdale Nurseries and their employees for all they have done to make the Carla E. Fisher Memorial Garden as well as the Pet Rescue & Resource Center a beautiful place.