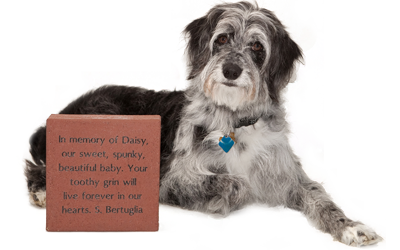 Become a part of Hinsdale Humane Society History...Today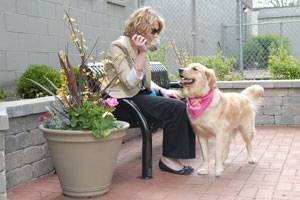 Please consider becoming a part of a very special limited time commemorative opportunity: The Carla E. Fisher Memorial Garden at the Hinsdale Humane Society.
We chose to dedicate our garden to Carla, in recognition of her dedication to the Hinsdale Humane Society and her passion for all animals. Ms. Fisher was an obedience instructor at HHS for many years. She was considered a friend, a mentor, an ambassador and an educator.
The Memorial Garden, installed in 2010, is a beautiful, serene area of the shelter, featuring shrubs, plants, benches and a custom brick patio. This peaceful location serves as a space for our pets and volunteers to unwind after a long walk, exercise or play time outside of the kennels.
Today, the garden is filled with loving words in honor of pets and people and is an inspiring place to visit. We invite you to purchase one of the customized, laser-engraved patio bricks, that will be added to the Carla E. Fisher Memorial Garden. Become a permanent part of our history! In years to come, you will be able to bring your children and grandchildren to view your legacy, all while helping homeless animals.
Now is your chance to support Hinsdale Humane Society with a donation that will last a lifetime. Brick purchases will benefit our homeless animals for years to come and will symbolize your commitment and love for animals. Two sizes are available: a 4" x 8" brick for $150 and an 8" x 8" brick for $250, which includes engraving. Bricks can be inscribed in honor, or in memory of an animal or animal lover, a donor's name, family name or business name.
All orders must be received by December 31, 2018 for installation in Spring 2019. Requests received after December 31, 2018 will be ordered and installed at a future date. All bricks are engraved using state of the art laser technology, ensuring long lasting strength and durability. Specific location of bricks will be at the discretion of HHS.