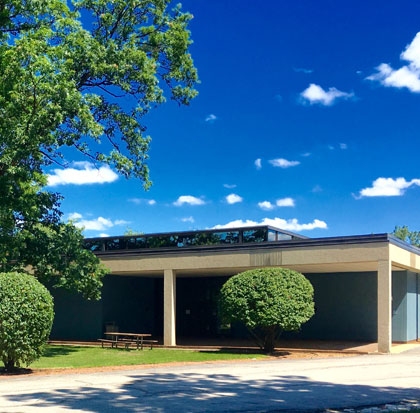 We are thrilled to announce to our friends, donors, volunteers and sponsors, that the shelter will have a new home in the future. The Robert Crown Center, located at 21 Salt Creek Lane in Hinsdale, will be the future home of HHS! We are sharing this news with you first before it goes to the media. Please read our press release below for full details. Thank you for being a part of our journey to this point. We can't wait to embark on this new path of growth with all of you!
THE ROBERT CROWN CENTER HAS BEEN SOLD TO HINSDALE HUMANE SOCIETY
The Two Hinsdale Non-Profit Organizations Have Reached a Real Estate Agreement That Enables Both to Grow their Services within the Community.
HINSDALE, IL July 31, 2017 – The Robert Crown Center for Health Education (RCC) has reached an agreement to sell its building at 21 Salt Creek Lane in Hinsdale, to fellow non-profit, Hinsdale Humane Society (HHS).
In the fall of 2017, RCC will shift to 100% in-school delivery and discontinue the "field trip" model that was once part of its tradition. This change comes as a result of customer feedback and the organization's commitment to providing cost-effective, science-based health education to the greatest number of Chicagoland students each year.
RCC currently teaches three-quarters of its students in their own schools which eliminates bus and travel fees while optimizing instruction time. As a result, RCC doesn't need as much space as the current building provides, so they are going to be relocating to a space that better fits their ongoing needs.
Meanwhile, the strategic plan set by the HHS Board of Directors called for extending the reach of the adoptions and programming it currently offers to more communities. "After waiting and watching for the right opportunity over the past few years, our Board jumped at the news of the Robert Crown Center facility going on the market," said Tom Van Winkle, HHS Executive Director. "It's ideal that we were able to partner with another Hinsdale non-profit institution to secure and grow both of our futures. It has been phenomenal working with the team at the Robert Crown Center."
Terms of the sale require HHS to secure an animal use permit by the beginning of 2018 for the 2.3 acre site. HHS plans to retain the exterior structure of the facility, while modifying the interior space to accommodate animals, presentations, classes, events and potentially, a medical area for spay and neuter surgeries for adopters. A capital campaign is planned to help raise the funds.
Since 1974, RCC has educated more than 6 million students and will educate about 80,000 this year. The Center focuses their programming on Sex Education, Substance Abuse Prevention and Social Emotional Learning and reaches almost 700 schools in the city of Chicago and 8 surrounding counties.
Since 1953, HHS has rescued countless animals from its shelter facility across the street from AMITA Hinsdale Hospital. Annually, HHS adopts out 1,000 animals. The new facility will allow HHS to rescue more animals and expand its humane education, pet therapy and obedience offerings to the community. The location, off of Odgen Avenue and directly west of Interstate 294, allows for easy access to adopters from a wide range of areas.
For more information about this story contact Barb Thayer, bthayer@robertcrown.org, 630-325-1900 or Tom Van Winkle, director@hinsdalehumanesociety.org, 630-323-0251. Visit www.robertcrown.org or www.hinsdalehumanesociety.org for more information about these organizations.