Following is an example of a letter you could write and modify to your pet's story, in order to generate donations for our Paws for Effect fundraiser. Swap out the sample story below with your own pet's story and be sure to include photos!
Subject Line: Paws for Effect - Helping pets like me!
[COPY TEXT FROM HERE TO END COPY]
Dear friends,
It takes a village in the rescue community to help animals in need, whether that means medically, finding their forever homes, or providing TLC and healing. My story highlights the work Hinsdale Humane Society (HHS) does every day. I hope you consider joining me in supporting their Paws for Effect Campaign.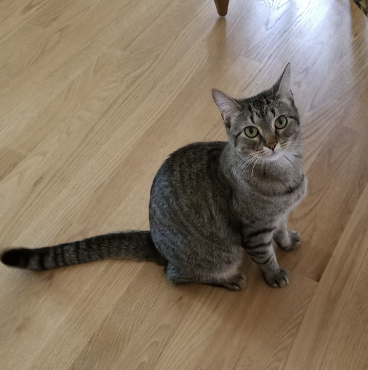 [REPLACE THE FOLLOWING TEXT AND IMAGE WITH YOUR STORY AND IMAGE] I was picked up on the streets of La Grange. About 4 months old, scared, hungry and with a nasty eye infection, police took me to Hinsdale Humane Society. The staff cleaned me up, loved me and sent me home with the sweetest foster mom ever. Once I was healthy, I came back to HHS.
The shelter needed help caring for their feline population. My future Mom walked in intending to take home an older Tom cat. Instead, staff handed me to her to hold, and I purred my way into her heart. I came home, they named me Liebchen and the rest is history. [END YOUR STORY]
Won't you consider helping another precious pet like me? Whether we're a young kitten, a senior pup or even a little lost domestic rabbit in the wild, we all need some TLC and a second chance.
Donate today at hinsdalehumanesociety.org/donate:
Scroll down to the Donate form
Choose "In Honor"
Choose General, Foster, Humane Education, Medical, Pet Therapy or Shelter Operations in the Donation Use field.
Type in Fundraising Organizer's Name in the In Tribute to field
Type in Tribute Amount
Thank you for your consideration and support of HHS's mission to advocate and educate on behalf of the animals in their care and provide valuable community programs. Their ability to do this is made possible by the kindness and compassion of people like you.
[END COPY]