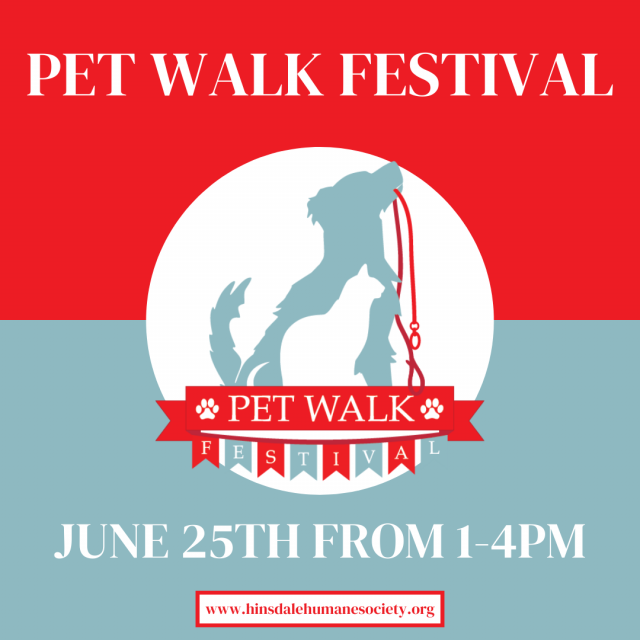 Our Pet Walk Festival returns Saturday, June 25th with loads of fun for everyone! Join us for a 1-mile pet walk, kid's dash, photo area, cat cove, vendors, raffles and so much more!
We'll be here with all the festivities from 1:00 - 4:00pm at our Pet Rescue & Resource Center at 21 Salt Creek Lane in Hinsdale.
Tickets are $20 for each person (13 and older) and includes 10 tickets to be used to pay for activities, beverages, and on-site raffles. Kids under 13 are free! Additional tickets will be available for purchase for $1 each at the gate.
In addition to the Pet Walk and scavenger hunt, kids can participate in the Kid's Dash. By age groups of 5 and under, 6-9 and 10 and up, participants can show off their speed and race to the finish line. Winners will receive a prize! The Kid's Dash will begin in waves at 1:30pm, starting with the youngest of the 3 age groups. The 1-mile Pet Walk begins at 2:00pm or as soon as the Kid's Dash is complete.
Attendees will have fun photo opportunities, take a visit to the cat cove, shop raffles, tour our facility, play games and more!
Peer to Peer Fundraiser

Please consider setting up a Paws for Effect fundraiser in the name of your pet. Peer to peer fundraising is so effective in helping non-profits like us, raise much needed funding to further our mission. Click through for more information!
Split the Pot Raffle
We invite you to participate in our annual Split the Pot Cash Raffle for a chance to win $1000! Purchase your tickets by selecting an option below.
Individual Tickets - $25 Each Book of 5 Tickets - $100 Each
Pie in the Face Fundraiser
If we're able to raise $2500 before June 25th, our CEO, Tom Van Winkle, will be on hand to take 10 pies in the face from golden ticket purchasers at Pet Walk. Golden tickets will be available for purchase at Pet Walk for $10 each.
Vendor Mall
Pet-related vendors will be on hand providing giveaways and raffles of their own, and guests can enjoy summertime refreshments during their visit. Raffles for special prizes and our split the pot cash raffle, plus tours by staff members will round out this day of family fun!
For Humane Heroes Members only!
As a Member, you'll receive FREE tickets (based on member level) when you attend.
Thank you to our Sponsors
Ruby Sponsors:

PawPrints Sponsors:
Mavco Insurance
Two Men and a Truck