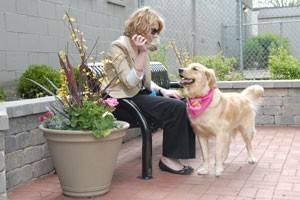 Please consider becoming a part of a very special limited time commemorative opportunity: The Carla E. Fisher Memorial Garden at the Hinsdale Humane Society.
The Memorial Garden, installed in 2010, is a beautiful, serene area of the shelter, featuring shrubs, plants, benches and a custom brick patio. This peaceful location serves as a space for our pets and volunteers to unwind after a long walk, exercise or play time outside of the kennels.
Brick purchases will benefit our homeless animals for years to come and will symbolize your commitment and love for animals. Two sizes are available: a 4" x 8" brick for $150 and an 8" x 8" brick for $250, which includes engraving. Bricks can be inscribed in honor, or in memory of an animal or animal lover, a donor's name, family name or business name.
All gifts and order forms must be received by March 31, 2018 for installation during the summer of 2018. Requests received after March 31, 2018 will be ordered and installed at a future date, most likely in 2019.
For more details or to purchase a brick, please complete the online form by clicking here. If you prefer, you can print out a form by clicking here and mail with payment to: Hinsdale Humane Society, 22 N. Elm St. Hinsdale, IL. 60521.