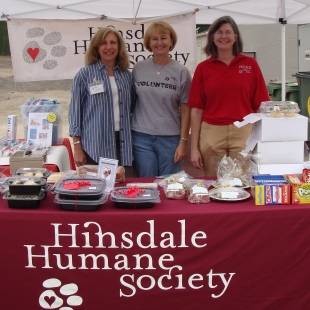 Hinsdale Humane Society will host a bake sale from 9am to 4pm on Saturday, September 20th. Our booth is part of the Hinsdale Retailers 44th Annual Garage Sale. The garage sale is a very popluar event in the community as shoppers enjoy a wide variety of discounted new merchandise from local retailers. The one day only event will feature great discounts on clothing, jewelrey, sporting goods, books, toys, bikes, paper goods, accessories, silver/china and more. Stop by and shop for all the great sale items.
Make sure to stop by the HHS Bake Sale table where you can select from a delicous assortment of cookies, cakes, brownies, breads, candies and more! Come early for the best selection of bake sale treats and merchandise sales. We will also have our adoptable animals book on display, to view all the wonderful animals available at Hinsdale Humane Society. The bake sale is a great opportunity for us to showcase our adoptable animals and raise needed funds too.
All of the proceeds from the bake sale will go directly to support our shelter animals.
Do you like to bake? We are accepting baked good donations. Cookies, treats, brownies should be packaged by the dozen (or by 6 if they are larger). Please drop off pre-packaged, labeled baked goods to: Hinsdale Humane Society, 22 N. Elm Street, Hinsdale. Donations should be dropped off on Friday afternoon, September 19th or by 8am on Saturday, September 28th. For questions, contact Robin Carroll at pr@hinsdalehumanesociety.org.