We want your pet to be as fit and happy as possible. An understanding of the pet health basics (veterinary care, food, and grooming) ensures your success.
Veterinary Care
Veterinary care is crucial to your pet's health. At a minimum, take your pet to the vet once a year. During this visit, the vet:
Performs a check-up including taking the pet's temperature, doing an external body exam of skin, coat, eyes, and ears, and doing an internal body exam of muscles and organs.
Vaccinates for illnesses. For dogs, required vaccinations are Canine Distemper, Parvovirus, Hepatitis, Rabies, and Parainfluenza. Other vaccinations may include Measles, CAV-2, Bordetella, Leptospirosis, Corona Virus, and Lyme Disease. For cats, required vaccinations are Panleukopenia, Rhinotracheitis, Calici Virus, and Rabies. Other vaccinations may include Feline Leukemia, Chlamydophila, Feline Infectious Peritonitis, and Bordetella.
Distributes preventative medicines such as heartworm pills and topical flea and tick ointments.
In addition to this once a year visit, consult or visit your vet for any other health or behavioral concerns.
Food
Just as there are a huge variety of pets, there is a huge variety of pet foods. Choose food based on your pet's specific needs. When doing so, keep in mind:
Foods come in a variety of forms, including dry, wet, raw, or freeze-dried. Choose the form best suited to your pet. For example, if your pet has poor dental health, consider a wet food.
Read labels and look for quality ingredients such as whole meats, vegetables, fruits, grains, and high-quality sources of dietary fat. Many specialty pet stores stock top-quality foods.
Consider your pet's caloric needs. Puppies, more active pets, and pets living in colder climates need higher calories than senior or low energy pets.
Look for allergic reactions. Just like humans, pets have allergies. Watch out for skin problems, diarrhea, vomiting, weight loss, and facial swelling.
To determine how much and when to feed your pet, check first with your vet. The food's packaging may also provide guidelines, but be aware that sometimes these instructions cause you to feed too much. Keep an eye out for excess weight gain.
Some human foods that might seem like healthy foods can be harmful to our pets. Click here for a list of some of the most dangerous foods for pets.
Grooming
While your pet does not have to look like a show animal, its basic grooming needs should be attended.
Dogs
Bathing – Most dogs require bathing about once a month with a dog shampoo. Use a reputable groomer if you don't want the hassle and mess. If your dog has skin and coat issues, be sure to consult your vet.
Brushing and Hair Cuts – All dogs need to be brushed. The longer or curlier the fur, the more you'll need to brush it to avoid tangling. For shedding breeds, such as a Golden Retriever, consider a deshedding brush. Dogs with hair, such as a Poodle, need their hair cut every 2-4 weeks.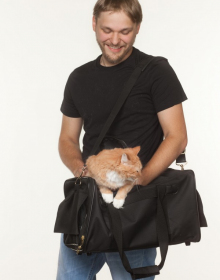 Nail Trimming – Most dogs need their nails trimmed about once a month. There are a variety of tools to help you do this, such as a clipper or a rotary file. It is extremely important not to cut the nail too short or you will hurt your dog. Consult your vet or a reputable groomer for more information.
Ear Cleaning - Dogs, especially those with floppy ears, can trap bacteria or yeast in their ear canal resulting in dirty debris and a bad odor. Regular cleaning with a topical solution, a cotton wipe, and a gentle hand prevents this. Consult your vet or a reputable groomer for more information.
For Cats
Cats groom themselves; however, consider brushing your cat with a fine-toothed comb, pin brush, or slicker brush once a week or so. This cuts down on the number of fur balls a cat has. While brushing, give your cat the once over to check for fur lumps, fleas, ticks, or any other problems. You can also wipe the eyes and ears with a damp piece of soft cotton to check for ear mites or infections.
Financial Help for Veterinary Care
According to the Humane Society of the United States, this is a list of some national organizations worth investigating. Some of these organizations have taken things a step further by posting their own researched lists of breed-specific and disease-specific financial-aid programs. (Most states also have assistance programs in place.) Become familiar now with what is available. If the day comes that your pet needs help, you will at least have a basic understanding of where to look for assistance. [Note: the following list was compiled by TheExaminer.com.]
The Big Hearts Fund (financial assistance for the diagnosis and treatment of canine and feline heart disease): bigheartsfund.org
The Binky Foundation: binkyfoundation.org
Brown Dog Foundation (prescription medications): browndogfoundation.org
Canine Cancer Awareness: caninecancerawareness.org
Cats In Crisis: catsincrisis.org
The Dog & Cat Cancer Fund: dccfund.org
God's Creatures Ministry Veterinary Charity: www.all-creatures.org
IMOM.org: IMOM.org
Magic Bullet Fund (cancer-specific): themagicbulletfund.org
The Mosby Fund: themosbyfoundation.org
The Onyx & Breezy Foundation: onyxandbreezy.org
Paws 4 A Cure: paws4acure.org
Pet Food Bank: www.petco.com
Pet Food Stamps: petfoodstamps.org
The Pet Fund: thepetfund.com
Pets of the Homeless (pet food and veterinary care assistance for homeless): www.petsofthehomeless.org
RedRover Relief: redrover.org
Rose's Fund: rosesfund.org
Shakespeare Animal Fund: www.shakespeareanimalfund.org
Top Dog Foundation "Bentley Grant": topdogfoundation.org
Some dog breed-specific veterinary care assistance programs:
CorgiAid: corgiaid.org
Special Needs Dobermans: doberman911.org
Dougal's Helping Paw (Scottish Terriers, West Highland White Terriers and other small, short-legged terriers): http://www.welcome.to/dougalsfund
Labrador Harbor: labradorharbor.org/
Labmed: labmed.org
Labrador Lifeline: labradorlifeline.org
Westimed (West Highland White Terriers): westiemed.org
Pyramedic Trust (Great Pyrenees): http://www.angelfire.com/bc2/pyramedic/summary.html
Veterinary care assistance for working/service dogs:
Helping Harley Cancer Treatment Grant: http://grants.landofpuregold.com
Assistance Dogs Special Allowance Program: http://www.cdss.ca.gov/cdssweb/PG82.htm